Re-Wiring Business: Uniting Management and the Web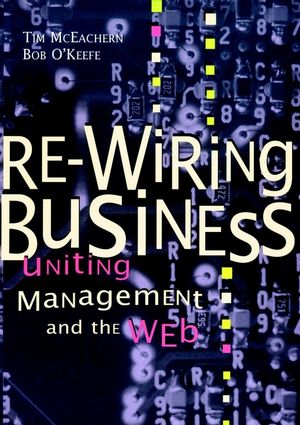 Re-Wiring Business: Uniting Management and the Web
ISBN: 978-0-471-17556-8
Nov 1997
288 pages
Description
A new line of books reveals how technology is changing how we do business...

How strategic business-wide use of Web technology can boost efficiency, sales, and profits

Authors Tim McEachern and Bob O'Keefe vividly illustrate that new Web technology must be considered and managed within the context of a company's entire business operations. With the help of success stories from industry leaders, they demonstrate the impact the Web can have on everything from product development to supplier relations, marketing and sales to personal management styles.

* The first book to show how strategic use of Web technology can positively impact all aspects of organizational growth
* Includes real-life examples from Johnson & Johnson, GE Price Waterhouse, United Technologies, UT Carriers, and other industry leaders
* Provides a framework for integrating EDI, Intranets, logistics software, and other Web-related technologies into product design and overall business operations

TIM McEACHERN (Albany, New York) is founder and President of One World Interactive, developers of Web sites for a number of Fortune 500 companies. BOB O'KEEFE (London, England) is a professor of information services management at Brunel University in London and has been a visiting professor at the Rensselaer Polytech's Lally School of Management and Technology.
Liftoff.

Strategic Matters.

Re-Engineering the Re-Wired Corporation.

The Network Inside.

Marketing in the Marketspace.

The Medium Is the Message.

Strategies for Net Retailing.

Business to Business.

Getting Paid.

The Re-Wired Business.

Notes.

References.

Index.