Re-thinking Dionysius the Areopagite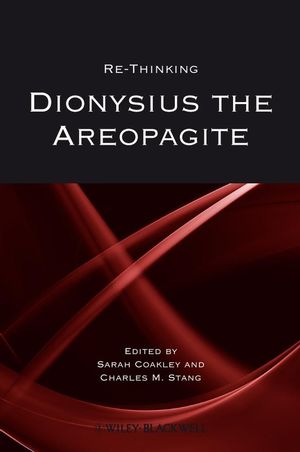 Re-thinking Dionysius the Areopagite
ISBN: 978-1-444-35645-8
Aug 2011, Wiley-Blackwell
240 pages
Description
Dionysius the Areopagite, the early sixth-century Christian writer, bridged Christianity and neo-Platonist philosophy. Bringing together a team of international scholars, this volume surveys how Dionysius's thought and work has been interpreted, in both East and West, up to the present day.
One of the first volumes in English to survey the reception history of Dionysian thought, both East and West
Provides a clear account of both modern and post-modern debates about Dionysius's standing as philosopher and Christian theologian
Examines the contrasts between Dionysius's own pre-modern concerns and those of the post-modern philosophical tradition
Highlights the great variety of historic readings of Dionysius, and also considers new theories and interpretations
Analyzes the main points of hermeneutical contrast between East and West
Introduction: Re-Thinking Dionysius the Areopagite: Sarah Coakley (University of Cambridge).
1. Dionysius, Paul, and the Significance of the Pseudonym: Charles M. Stang (Harvard University).
2. The Earliest Syriac Reception of Dionysius: István Perczel (Central European University).
3. The Reception of Dionysius up to Maximus the Confessor: Andrew Louth (Durham University).
4. The Reception of Dionysius in the Byzantine World: Maximus to Palamas: Andrew Louth (Durham University).
5. The Early Latin Dionysius: Eriugena and Hugh of St. Victor: Paul Rorem (Princeton Theological Seminary).
6. The Medieval Affective Dionysian Tradition: Boyd Taylor Coolman (Boston College).
7. Albert, Aquinas, and Dionysius: David Burrell, C.S.C (University of Notre Dame) and Isabelle Moulin.
8. Dionysius and some Late Medieval Mystical Theologians of Northern Europe: Denys Turner (Yale University).
9. Cusanus on Dionysius: The Turn to Speculative Theology: Peter Casarella (Depaul University).
10. Luther and Dionysius: Beyond Mere Negations: Piotr J. Malysz (Harvard University).
11. Dionysian Thought in 16th Century Spanish Mystical Theology: Luis M. Girón-Negrón (Harvard University).
12. The Reception of Dionysius in 20th Century Eastern Orthodoxy: Paul L. Gavrilyuk (University of Saint Thomas).
13. Dionysius, Derrida, and the Critique of 'Ontotheology': Mary-Jane Rubenstein (Wesleyan University).
14. Dionysius in Hans Urs von Balthasar and Jean-Luc Marion: Tamsin Jones (Harvard University).
Index
"Re-Thinking Dionysius the Areopagite is a helpful tool in navigating the great tidal wave of Dionysian-inspired literature." (Journal of Church History, September 2010)




One of the first volumes in English to survey the reception history of Dionysian thought, both East and West

Provides a clear account of both modern and post-modern debates about Dionysius's standing as philosopher and Christian theologian

Examines the contrasts between Dionysius's own pre-modern concerns and those of the post-modern philosophical tradition

Highlights the great variety of historic readings of Dionysius, and also considers new theories and interpretations

Analyzes the main points of hermeneutical contrast between East and West