Reading After Theory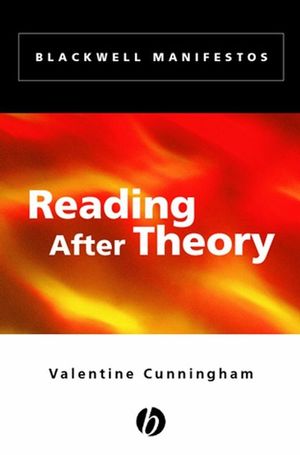 Reading After Theory
ISBN: 978-0-631-22168-5
Feb 2002, Wiley-Blackwell
208 pages
Description
Valentine Cunningham's controversial manifesto asks what will and should happen to reading in the post-theory era.
1. What Then? What Now?.
2. Reading Always Comes After.
3. Theory, What Theory?.
4. The Good of Theory.
5. Fragments . Ruins.
6. All What Jazz? Or, The Incredible Disappearing Text.
7. Textual Abuse: Or, Down with Stock Responses.
8. Theory Stinks.
9. Touching Rading.
10. When I Can Read My Title Clear.
Notes.
Index.
"This publisher's 'Manifestos' series seeks to offer educated but general readers chewy presentations of contemporary ideas, and Cunningham (English language and literature, Oxford) is stellar in his honing to that theme. This book is fun, involving, and inviting as both a social book-discussion subject and an important text that graduate students and literary specialists need to consider.
Library Journal
<!--end-->
"Valentine Cunningham's sharp, amusing critical polemic" Times Literary Supplement

"In the process of developing his argument and attempting to refocus critical attention on the text - both the literary and the critical text - and what it says, Cunningham displays an intimate knowledge of the major works of contemporary literary theory." Choice


Asks what literary criticism should do in the post-theory era.


Articulates the case for a theoretically aware but textually centred literary studies.


Controversial in its privileging of texts over readings and in its insistence on the rehumanisation of literary studies.


Forms part of the prestigious Blackwell Manifestos series.