Reading Development and the Teaching of Reading: A Psychological Perspective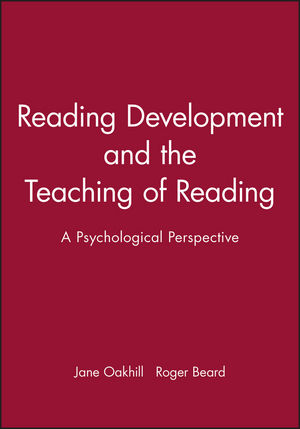 Reading Development and the Teaching of Reading: A Psychological Perspective
ISBN: 978-0-631-20682-8 October 1999 Wiley-Blackwell 260 Pages
Description
This volume demonstrates how psychological research helps us to better understand the reading process and its development.
List of Figures.
List of Tables.
Preface.
Acknowledgements.
List of Contributors.
1 The New Literacy: Caveat Emptor (Philip B. Gough).
2 How Research Might Inform the Debate about Early Reading Acquisition (Keith E. Stanovich and Paula J. Stanovich).
3 Cognitive Research and the Misconception of Reading Education (Charles A. Perfetti).
4 Constructing Meaning: The Role of Decoding (Philip B. Gough and Sabastian Wren).
5 Phases of Development in Learning to Read Words (Linnea C. Ehri).
6 Learning to Read Words Turns Listeners into Readers: How Children Accomplish this Transition (Morag Stuart, Jackie Masterson and Maureen Dixon).
7 Dyslexia: Core Difficulties, Variability and Causes (Carsten Elbro).
8 Meaningless, Productivity, and Reading: Some Observations about the Relation between the Alphabet and Speech (Brian Byrne and Alvin M. Liberman).
9 Phonological Development and Reading by Analogy: Epilinguistic and Metalinguistic Issues (Usha Goswami).
10 The Messenger may be Wrong, but the Message may be Right (Connie Juel).
11 Afterword: The Science and Politics of Beginning Reading Practices (Marilyn Jager Adams).
Subject Index.
Author Index.
"Oakhill and Beard present an overview and a detialed account of major issues related to the development and the teaching of reading.... The material is well linked internally. Together, the chapters provide an important explanation of the debates that have long existed in reading circles. The book provides a forum to develop new philosophical lines of inquiry on reading rather than continuing to seek answers to traditional notions of reading instruction.... This important and exciting text illuminates key social and political issues surrounding the teaching of reading. A thought-provoking volume worthy of note. Highly recommended for graduate students, faculty, and researchers." (
Choice September 2000
)
"...the collection provides a good, if familiar, view of the cognitive approach to reading acquisition.... It will be a useful supporting text for those who already operate within the cognitive experimental framework." (Educational Research, Vol 42, No3, Winter 2000)
* Contains contributions from many world authorities in the field of reading development.
* Provides a current account of how children acquire reading skills.
* Discusses the applications of research findings for the teaching of reading.