Reading Digital Culture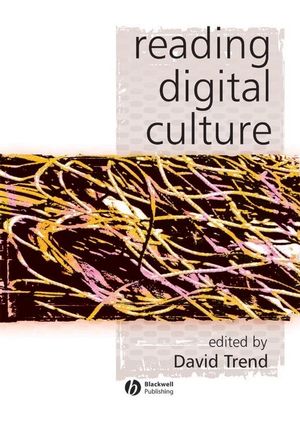 Reading Digital Culture
ISBN: 978-0-631-22301-6
Feb 2001, Wiley-Blackwell
384 pages
Description
Computer technology has transformed many fundamental parts of life: how we work and play, how we communicate and consume, how we create knowledge and learn, even how we understand politics and participate in public life. Reading Digital Culture is a comprehensive collection of the most influential essays on digital media written in recent years.
Introduction.
Part I: The Machine in the Garden.
1. As We May Think. (Vannevar Bush).
2. Ada. (Sadie Plant).
3. From Virtual Reality to the Virtualization of Reality. (Slavotj Zizek).
4. Speed and Information: cyberspace Alarm! (Paul Virilio).
5. A Manifesto for Cyborgs. (Donna Haraway).
6. Machinic Heterogenesis. (Felix Guattari).
Part II: Knowledge and Communication in a Digital Age.
7. Johnny Mnemonic. (William Gibson).
8. The Erotic Ontology of Cyberspace. (Michael Heim).
9. Virtually Female: Body and Code. (Margaret Morse).
10. Hypertext and Critical Theory. (George Landdow).
11. Computers as Theatre. (Brenda Laurel).
12. The Information War. (Hakim Bey).
Part III: Living in the Immaterial World.
13. Dilemmas of Transformation in the Age of the Smart Machine. (Shoshana Zuboff).
14. Technology and the Future of Work. (Stanley Aronowitz).
15. The Theory of the Virtual Class. (Arthur Kroker and Michael A. Weinsteing).
16. The Informational Economy. (Manuel Castells).
17. The Global Information Highway: Project for an Ungovernable World. (Herbert Schiller).
18. The Coming Age of the Flesh Machine. Critical Art Ensemble.
Part IV: Performing Identity in Cyberspace.
19. Will the Real Body Please Stand Up? Boundary Stories about Virtual Encounters. (Allucquere Rosanne (Sandy) Stone).
20. A Rape in Cyberspace; or, How an Evil Clown, a Haitian Trickster Spirit, Two Wizards, and a Cast of Dozens Turned a Database into a Society. (Julian Dibbell).
21. Women & Children First: Gender and the Settling of the Electronic Frontier. (Laura Miller).
22. We're Teen, We're Queer and We've Got E-mail. (Steve Silberman).
23. Race In/ For Cyberspace: Identity Tourism and Racial Passing on the Internet. (Lisa Nakamura).
24. Who Am We? (Sherry Turkle).
Part V: Searching for Community Online.
25. Collective Intelligence. (Pierre Levy).
26. Cyber Democracy: The Internet and the Public Sphere. (Mark Poster).
27. The Virtual Community. (Howard Rheingold).
28. The Virtual Barrio @ the Other Frontier. (Guillermo Gomez-Pena).
29. A Disappearance of Community. (Avital Ronell).
Part VI: Reading Digital Culture.
30. History, Theory and Virtual Reality. (Robert Markley).
31. The Seductions of Cyberspace. (N. Katherine Hayles).
32. New Age Mutant Ninja Hackers: Reading MONDO 2000. (Vivian Sobchack).
33. Virtual Skin: Articulating Race in Cyberspace. (Cameron Bailey).
34. Towards a New Media Aesthetic. (Timothy Allen Jackson).
35. The New Smartness. (Andrew Ross).
Index.
"Reading Digital Culture reminds its readers that technology cannot be analyzed outside of the realms of power, politics, the social, and democracy. This is a breakthrough book for anyone who wants to understand and critically engage, rather than merely praise, those pedagogical, technological, and communicative forces that are shaping the twenty-first century. A must read."
Henry Giroux, Pennsylvania State University
.
"This is an absorbing and fascinating anthology that is sure to become a classic. It should be required reading for anyone hopeful of understanding, at a deep and profound level, the essences of contemporary digital thought from its leading thinkers. This compilation provokes fresh insights that make it a major contribution to the field." Lynn Hershman, University of California, Davis.

"Anyone teaching classes in subjects that intersect with digital culture will be grateful to Trend for this compilation. It contains many classic texts essential for those pursuing digital art production or critique of our technological world. Reading these texts will help raise awareness that creative work with digital media generates many issues and responsibilities." Victoria Vesna, University of California, Los Angeles.

"This collection of some 35 essays and excerpts, edited by David Trend, comprises significant writings on digital culture. The material is an important resource for cultural studies. Trend's selection and structuring along with his introductory notes for each section make this a valuable and unique assemblage." Times Higher Education Supplement


Brings together some of the most provocative commentators on digital culture.


Presents both classic essays on digital cultures as well as more recent, cutting-edge articles.


Includes a wider and more far-reaching selection of topics than any other volume on the subject.