Reading Eighteenth-Century Poetry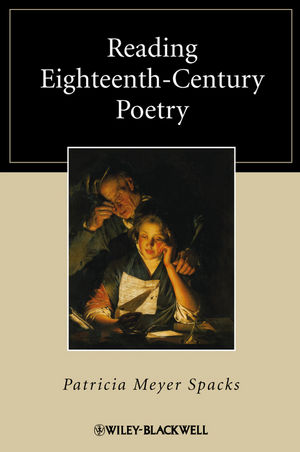 Reading Eighteenth-Century Poetry
ISBN: 978-1-405-15361-4 February 2009 Wiley-Blackwell 304 Pages
Description
Reading Eighteenth-Century Poetry
recaptures for modern readers the urgency, distinctiveness and rewarding nature of this challenging and powerful body of poetry.


An essential guide to reading eighteenth-century poetry, written by world-renowned critic, Patricia Meyer Spacks


Exposes the multiplicity of forms, tones, and topics engaged by poets during this period


Provides in-depth analysis of poems by established figures such as Alexander Pope and Jonathan Swift, as well as work by less familiar figures, including Anne Finch and Mary Leapor


A broadly chronological structure incorporates close reading alongside insightful contextual and historical detail


Captures the power and uniqueness of eighteenth-century poetry, creating an ideal guide for those returning to this period, or delving into it for the first time
Table of contents
Preamble.
1 How to Live: The Moral and the Social.
2 Matters of Feeling: Poetry of Emotion.
3 The Power of Detail: Description in Verse.
4 High Language and Low: The Diction of Poetry.
5 Alexander Pope and Lady Mary Wortley Montagu.
6 How to Live: The Place of Work.
7 Matters of Feeling: Forms of the Personal.
8 Structures of Energy, Structures of Leisure: Ode and Blank Verse.
9 Old Poetry, Old Language: Imitation and Fraud.
10 Outliers: Mary Leapor and Christopher Smart.
11 How to Live: Poetry and Politics.
12 Matters of Feeling: Emotion Celebrated.
13 Narrative and Reflection.
14 Poetic Languages: Diction Old and New.
15 Mary Robinson and William Cowper.
Bibliography.
Index.
Reviews
"Reading Eighteenth-Century Poetry, a book designated for the specialist and general reader alike." (Studies in English Literature, Summer 2010)
"The readings that Spacks provides are nuanced and stimulating. Each of the chapters is organized around the detailed close reading of three to four poems which are related to each other in order to exemplify the range of possible responses to phenomena such as emotion, reflection or description. Spacks's guidance introduces the student reader to the generic and thematic fluidity of eighteenth-century poetry but also offers stimulating readings to the experienced scholar." (English Studies, August 2010)
"Spacks is an impressive close reader, and her lively, persuasive analyses offer exemplary models to students coming to this method or subject for the first time." (
CHOICE, August 2009)
What's New


An essential guide to reading eighteenth-century poetry, written by world-renowned critic, Patricia Meyer Spacks

Exposes the multiplicity of forms, tones, and topics engaged by poets during this period

Provides in-depth analysis of poems by established figures such as Alexander Pope and Jonathan Swift, as well as work by less familiar figures, including Anne Finch and Mary Leapor

A broadly chronological structure incorporates close reading alongside insightful contextual and historical detail

Captures the urgency and distinctiveness of eighteenth-century poetry, creating an ideal guide for those returning to this period, or delving into it for the first time