Reading Habermas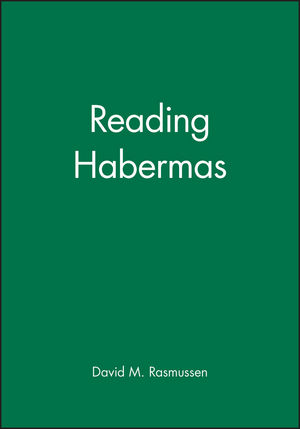 Reading Habermas
ISBN: 978-0-631-15274-3
Jan 1991, Wiley-Blackwell
156 pages
Description
In the past decade the work of Jurgen Habermas has sparked off a series of lively debates over modernity and post-modernity, the nature of language, the interplay of law and politics and the dilemmas of morality. Significantly, these debates unfold in the context of his particular reading of the modern philosophical tradition from the German enlightment to the present period.
In this original interpretation, David Rasmussen provides both guide and critique to the later Habermas encountered in the context of the best of the critical literature that has emerged in recent years. Reading Habermas argues that Habermas' concept of modernity provides the context for the theory of language as well as his approaches to law and ethics.
This book, as its title implies, offers a reading. It explores philosophical options chosen in the light of other, rejected readings. It is a distinctive, readable contribution to the current controversy surrounding the most recent developments in critical theory.
Acknowledgements
1. The Dilemmas of Modernity
2. The Strategy of the Theory of Communicative Action
3. The Problems in the Theory of Communicative Action
4. Discourse Ethics
5. Communication and the Law
6. Reading Habermas: Modernity versus Post-Modernity Jurgen Habermas: A Bibliography by Rene Gortzen
Index
"is to be highly recommended as a basic critical commentary for both specialist and non-specialist alike." Philosophical Studies "A valuable resource not only in providing an interest perspective on Habermas's work but in offering a guide to much of the relevant literature on it." Philosophical Quarterly .
"A clear, cogent, sympathetic-critical discussion of issues." James L Marsh, Fordham University .
* Offers an integrated reading of Habermas, showing his influence on law, ethics, language as well as on theories of modernity * Argumentative, critical and accessible