Reading Knowledge: An Introduction to Foucault, Barthes and Althusser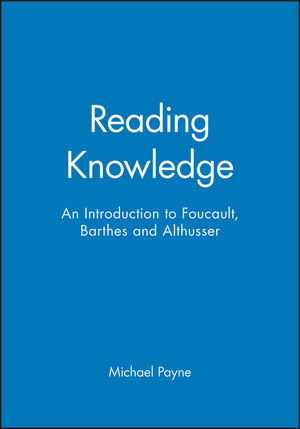 Reading Knowledge: An Introduction to Foucault, Barthes and Althusser
ISBN: 978-0-631-19566-5
May 1997, Wiley-Blackwell
136 pages
Description
Michael Payne introduces the principal writings of Roland Barthes, Michael Foucault and Louis Althusser by means of a detailed focus on their common interest in the forms and conditions of knowledge.
Preface.
Acknowledgements.
Abbreviations.
1. Barthes: From Work to Text.
2. Foucault: Nietzsche, Genealogy, History.
3. Althusser: Ideology and Ideological State Apparatuses.
4. Foucault: The Order of Things.
5. Barthes: S/Z. .
6. Althusser: Reading Capital.
7. Signs, Images, and the Real: Barthes, Althusser, and Foucault on Photography and Painting.
8. Deleuze: Philosophy, Psychoanalysis, Capitalism.
Index.
"The attention given to what I think is essential in my research-the semiotic and symbolic, rejection, negativity, practice, in particular their close connection with Husserl, Hagel, and Freud- is unique among works which have previously dealt with my books." Julia Kristeva
"For this reader's money. Payne's discussion is the best non-polemical introduction to Lacan he has come across." Jesse W. Nash, History of European Ideas

"I have never read a more lucid explanation of Derrida's ideas." James R. Bennett, Style

"Reading Theory is an enormously study and, given its complexity, remarkably accessible." John Schad, Review of English Studies
* Offers a unique guide to principle writings of three key theorists.
* Reveals their commitment to truth, meaning and value.
* Provides ideal introduction written for the student.