Reading Romantic Poetry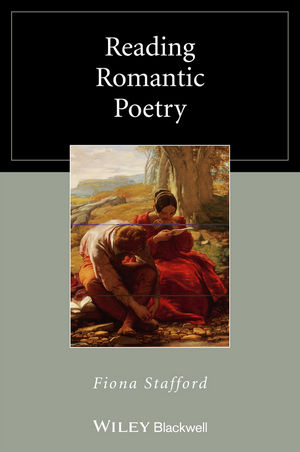 Reading Romantic Poetry
ISBN: 978-1-118-22812-8 March 2012 Wiley-Blackwell 248 Pages
Description
Reading Romantic Poetry introduces the major themes and preoccupations, and the key poems and players of a period convulsed by revolution, prolonged warfare and political crisis.
Provides a clear, lively introduction to Romantic Poetry, backed by academic research and marked by its accessibility to students with little prior experience of poetry
Introduces many of the major topics of the age, from politics to publishing, from slavery to sociability, from Milton to the mind of man
Encourages direct responses to poems by opening up different aspects of the literature and fresh approaches to reading
Discusses the poets' own reading and experience of being read, as well as analysis of the sounds of key poems and the look of the poem on the page
Deepens understanding of poems through awareness of their literary, historical, political and personal contexts
Includes the major poets of the period, Blake, Wordsworth, Coleridge, Byron, Shelley, Keats, Burns and Clare —as well as a host of less familiar writers, including women
Preface.
Chapter One: The Pleasures of Poetry.
Painful Pleasures.
Public and Private.
Chapter Two: Solitude and Sociability.
Romantic Solitude.
The Romantic Resistance to Solitude.
Public and Private Friendships of Poets.
Friendships Tested and Trie.
Chapter Three: Common C.ncerns and Cultural Connections.
Common Causes: The Abolition.
Common Culture: Romantic Rainbows.
Chapter Four: Traditions and Transformations: Poets as Readers.
The Sonnet Revival.
Paradise Lost.
Native Traditions.
Chapter Five: Reading or Listening? Romantic Voices.
The Language of Conversation: Lyrical Ballads.
Oral and Rural.
Standard English and the Freedom of Speech.
Chapter Six: Sweet Sounds.
Romantic Nightingales.
Hidden Birds that Sing.
Sound and Sense.
Chapter Seven: Poems on Pages.
Romantic Poets: Then and Now.
Illuminated Books.
From Vision to Volume.
Christabel, and Other Poems, 1816.
Reading according to Composition or Publication?
References.
"There are gems of insight on every page of this engaging and clarifying book, which opens up familiar and unfamiliar poems to considerations of verbal texture just as much as it reveals them in their cultural and political contexts. Stafford's Reading Romantic Poetryteaches as much by example as by precept. This is how to read Romantic poetry and it is, as such, an ideal introduction to the period's literary culture as a whole."  (The BARS Review, 1 October 2014)
""These engagements with the nature of poetry are no mystical celebration of a mysterious power—on the contrary: by focusing on specific attempts Professor Stafford underlines the demystifying facet of these poems which lay bare their own artifice to their readers."" (Cercles, 1 December 2012)

""An excellent, well-written resource for those interested in Romantic poetry … Stafford brings a new sensibility and fresh eye to the subject ... Highly recommended."" (Choice, 1 October 2012)