Reading Sixteenth-Century Poetry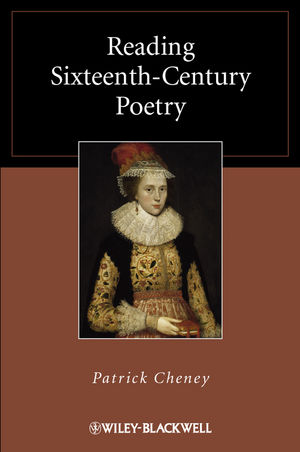 Reading Sixteenth-Century Poetry
ISBN: 978-1-444-39655-3 May 2011 Wiley-Blackwell 352 Pages
Description
Reading Sixteenth-Century Poetry combines close readings of individual poems with a critical consideration of the historical context in which they were written. Informative and original, this book has been carefully designed to enable readers to understand, enjoy, and be inspired by sixteenth-century poetry.
Close reading of a wide variety of sixteenth-century poems, canonical and non-canonical, by men and by women, from print and manuscript culture, across the major literary modes and genres
Poems read within their historical context, with reference to five major cultural revolutions: Renaissance humanism, the Reformation, the modern nation-state, companionate marriage, and the scientific revolution
Offers in-depth discussion of Skelton, Wyatt, Surrey, Isabella Whitney, Gascoigne, Philip Sidney, Spenser, Marlowe, Mary Sidney Herbert, Donne, and Shakespeare
Presents a separate study of all five of Shakespeare's major poems - Venus and Adonis, The Rape of Lucrece, 'The Phoenix and Turtle,' the Sonnets, and A Lover's Complaint- in the context of his dramatic career
Discusses major works of literary criticism by Plato, Aristotle, Horace, Longinus, Philip Sidney, George Puttenham, Percy Bysshe Shelley, Seamus Heaney, Adrienne Rich, and Helen Vendler
Introduction.
The Pleasures and Uses of Sixteenth-Century Poetry.
Part I 1500–1558. Reading Early Tudor Poetry: Henrician, Edwardian, Marian.
1 Voice.
The Poetic Style of Character: Plain and Eloquent Speaking.
2 Perception.
The Crisis of the Reformation, or, What the Poet Sees: Self, Beloved, God.
3 World.
The Poet's Ecology of Place: Sky, Sea, Soil.
4 Form.
The Idea of a Poem: Elegy, Pastoral, Sonnet, Satire, Epic.
5 Career.
The Role of the Poet in Society: Skelton, Wyatt, and Surrey.
Part II 1558–1600. Reading Elizabethan Poetry.
6 Voice.
The Poetic Style of Character: From Plain Eloquence to the Metaphysical Sublime.
7 Perception.
What the Poet Sees, and the Advent of Modern Personage: Desire, Idolatry, Transport, Partnership.
8 World.
The Poet's Ecology of Place: Cosmos, Colony, Country.
9 Form.
Fictions of Poetic Kind: Pastoral, Sonnet, Epic, Minor Epic, Hymn.
10 Career.
The Role of the Poet in Society: Whitney, Spenser, and Marlowe.
Part III A Special Case.
11 Shakespeare: Voice, Perception, World, Form, Career.
Conclusion.
Retrospective Poetry: Donne and the End of Sixteenth-Century Poetry.
Bibliography.
Index.
"Highly useful in addressing the formal and generic concerns of sixteenth-century poets, and thus in demonstrating close reading, Reading Sixteenth-Century Poetry fails to address the equally important political and theoretical period discourses or the methodologies needed to address them. The unbalanced infatuation with authorial vocation and authorial perspectives thus limits the usefulness of the text. Cheney's companion text may thus represent a more widespread return to traditional author-centered interpretive theories and a
turn away from poststructural approaches."  (Journal of the Northern Renaissance, 1 December 2012)
""Cheney's eye for such intertextual allusion transforms what could have been a series of isolated close readings into a delicately unified exposition of a century's worth of literary dialogue."" (Times Literary Supplement, 23 December 2011)
""A carefully selected bibliography that focuses on background sources as well as on primary works and significant critical material is a valuable supplement to the author's consideration of the poetry. Cheney develops his thesis clearly and makes an important contribution to Renaissance scholarship. Recommended. Upper-division undergraduates through faculty."" (Choice, 1 October 2011)