Reading Skills Competency Tests: Second Level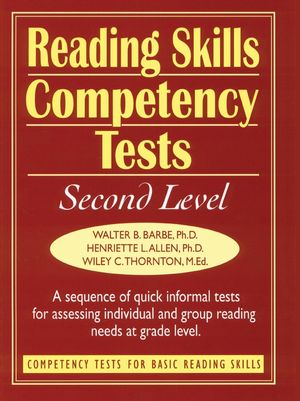 Reading Skills Competency Tests: Second Level
ISBN: 978-0-787-96637-9
Mar 1999, Jossey-Bass
160 pages
Product not available for purchase
Description
Each level unit provides a sequential Reading Skills Checklist of the skills to be mastered at that grade/reading level for easy individual record keeping, plus 40-70 short, reproducible informal Reading Skills Competency Tests for measuring students' mastery of each skill on the Checklist at that level. Each also includes a Group Summary Profile for recording class progress and a separately printed wall chart that maps out the entire reading skills progression from Readiness through Advanced levels.
Competency Tests for Basic Reading Skills.
How to Use the Competency Tests and Check List.
Reading Skills Check List—Second Level.
Group Summary Profile—Second Level.
Reading Skills Competency Tests: Second Level.
I. VOCABULARY.
Word Recognition.
Word Meaning.
II. WORD ANALYSIS.
Phonics.
Structural Analysis.
III. COMPREHENSION.
Association of Ideas of Material Read.
Organization of Ideas.
Locating Information.
Appreciation.
IV. ORAL AND SILENT READING.
Oral Reading.
Silent Reading.
Barbe Reading Skills Check List Sequential Skill Plan (Chart).