Readings in Abnormal Psychology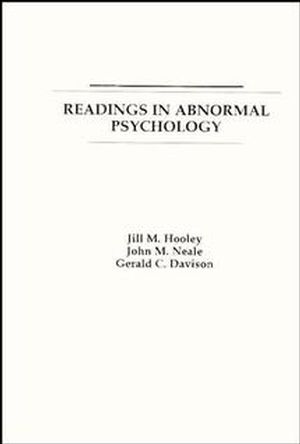 Readings in Abnormal Psychology
ISBN: 978-0-471-63107-1
Feb 1989
624 pages
Description
A collection of forty-three primary sources, ranging from contributions to scholarly journals to newspaper articles and first person accounts. An indispensable supplement to any course in abnormal or clinical psychology. Articles represent current research findings in psychopathology and indicate the direction of new research. The editors provide introductory material for each article.
Partial table of contents:

INVESTIGATION AND DIAGNOSIS OF PSYCHOPATHOLOGY.

Debating Mental Illness: Implications for Science, Medicine, and Social Policy (E. Gorenstein).

The Reliability of Psychiatric and Psychological Diagnosis (J. Matarazzo).

SCHIZOPHRENIA.

Clues to the Genetics and Neurobiology of Schizophrenia (S. Nicol & I. Gottesman).

Expressed Emotion: A Review of the Critical Literature (J. Hooley).

MOOD DISORDERS.

Antidepressants and Biochemical Theories of Depression (E. McNeal & P. Cimbolic).

Depressive Self-Schemas, Life Stress, and Vulnerability to Depression (C. Hammen, et al.).

ANXIETY DISORDERS AND REACTIONS TO STRESS.

A Cognitive Approach to Panic (D. Clark).

Confronting a Traumatic Event: Toward an Understanding of Inhibition and Disease (J. Pennebaker & S. Beall).

SUBSTANCE ABUSE AND INTERPERSONAL DISORDERS.

Portrait of a Con Artist (T. Sandler).

Epidemiology of Drug Abuse: An Overview (M. Schuckit).

PSYCHOPATHOLOGY IN CHILDREN.

Comparative Analysis of Attentional Deficits in Hyperactive and Learning Disabled Children (K. Tarnowski, et al.).

Toward an Understanding of Risk Factors for Bulimia (R. Striegel-Moore, et al.).

INTERVENTION.

Differential Aspects of Experiential and Problem-Solving Interventions in Resolving Marital Conflict (S. Johnson, et al.).

Understanding and Preventing Relapse (K. Brownell).