Readings in Contemporary Political Sociology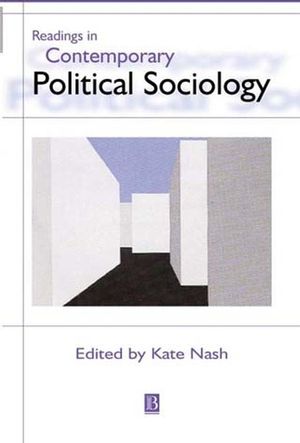 Readings in Contemporary Political Sociology
ISBN: 978-0-631-21363-5 February 2000 Wiley-Blackwell 384 Pages
Description
This Reader presents the best published writings of prominent sociologists and political theorists currently working in the field.
List of Contributors.
Preface.
Part I: Power and Politics:.
Introduction.
1. The Subject and Power: Michel Foucault.
2. A Sociological Theory of Postmodernity: Zygmunt Bauman.
3. Inequality After Class: Malcolm Waters.
Part II: Globalization:.
Introduction.
4. From Fordism to Flexible Accumulation: David Harvey.
5. The Social Revolutions of our Time: Anthony Giddens.
6. Disjuncture and Difference in the Global Cultural Economy: Arjun Appadurai.
7. The Question of Cultural Identity: Stuart Hall.
Part III: Social Movements and the Politicization of the Social:.
Introduction.
8. "New Social Movements" of the Early Nineteenth Century: Craig Calhoun.
9. The Concept of Social Movement: Mario Diani.
10. Transnational Contention: Sidney Tarrow.
Part IV: Citizenship, Exclusion, and Difference:.
11. Rethinking Citizenship and Social Movements: Themes in Contemporary Sociology and Neoconservative Ideology: Maurice Roche.
12. The Patriarchal Welfare State: Carole Pateman.
13. Toward a Postnational Model of Membership [in Europe]: Yasemin Nuhoglu Soysal.
Part V: Democracy:.
Introduction.
14. The Public Sphere: Jürgen Habermas.
15. Hegemony and New Political Subjects: Toward a New Concept of Democracy: Chantal Mouffe.
16. Democracy, the Nation-State and the Global System: David Held.
Identity and Difference in Global Politics: William E. Connolly.
Index.
"Finally - a collection that explores political sociology as a series of conceptual political problems, as opposed to a diffuse empirical array. These articles raise the most central issues in political sociology in a way that engages and challenges the reader." Michael Kimmel, State University of New York at Stony Brook


Addresses political issues beyond the traditional concern with the relation between state and society

Essays chosen for their influence on the development of topics currently emerging as important in the new political sociology

Contains readings by leading international figures on power, globalization, social movements, citizenship and democracy