Readings in Urban Theory, 3rd Edition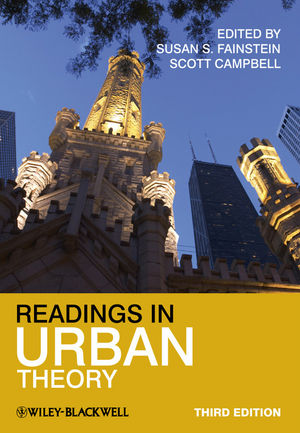 Readings in Urban Theory, 3rd Edition
ISBN: 978-1-444-33081-6 March 2011 Wiley-Blackwell 516 Pages
Description
Updated with a majority of new readings, the Third Edition of Readings in Urban Theory expands its focus to present the most recent developments in urban and regional theories and policies in a globalized world.
Around 75% of the readings included are new for the third edition
Unifies readings by an orientation toward political economy and normative themes of social justice
Expands the focus on international planning, including globalization and theories of development
Addresses the full range of core urban theory so as to remain the primary text in courses
Acknowledgments.
1 Introduction: Theories of Urban Development and Their Implications for Policy and Planning (Susan S. Fainstein and Scott Campbell).
Part I The Changing Urban and Regional System.
2 Regulation Theory, Post-Fordism and Urban Politics (Joe Painter).
3 Neoliberalization and Democracy (Mark Purcell).
4 The Global City: Strategic Site/New Frontier (Saskia Sassen).
5 The Fifth Migration (Robert Fishman).
6 Urban 'Regions' and Their Governance (Patsy Healey).
Part II Diversity: Race, Gender, Ethnicity and the Partitioning of Space.
7 Cities and Diversity: Should we want it? Can we plan for it? (Susan S. Fainstein).
8 Conceptualizing Recognition in Planning (Ruth Fincher and Kurt Iveson).
9 Women's Aspirations and the Home: Episodes in American Feminist Reform (Gwendolyn Wright).
10 Is Multiculturalism Bad for Women? (Susan Moller Okin).
11 Cities in Quarters (Peter Marcuse).
12 Social Exclusion and Opportunity Structures in European Cities and Neighbourhoods (Alan Murie and Sako Musterd).
Part III Redevelopment and Urban Transformation.
13 Partnership and the Pursuit of the Private City (Gregory D. Squires).
14 Gentrification, the Frontier, and the Restructuring of Urban Space (Neil Smith).
15 Promoting Tourism in US Cities (Dennis R. Judd).
Part IV Culture, Design, and Urban Form Introduction.
16 The End(s) of Urban Design (Michael Sorkin).
17 Changing Landscapes of Power: Opulence and the Urge for Authenticity (Sharon Zukin).
18 The 'Bilbao Effect' (Donald McNeill).
19 Connecting New Urbanism and American Planning: An Historical Interpretation (Emily Talen).
20 Blurring the Boundaries: Public Space and Private Life (Margaret Crawford).
Part V Cities and Space in a Globalized World.
21 Uneven Geographical Developments and Universal Rights (David Harvey).
22 Transnationalism and Citizenship (Michael Peter Smith).
23 Reflections on Place and Place-Making in the Cities of China (John Friedmann).
24 The Economic Theory of the Developmental State (Ha-Joon Chang).
25 The Prevalence of Slums (Mike Davis).
26 Dangerous Spaces of Citizenship: Gang Talk, Rights Talk and Rule of Law in Brazil (James Holston).
Credit and Source Information.
Index.