Readings in the Philosophy of Religion: East Meets West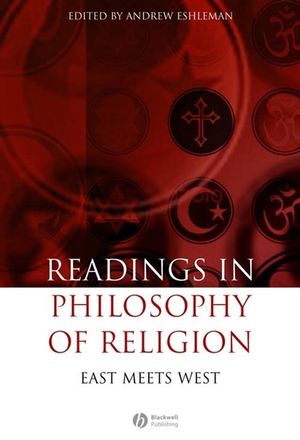 Readings in the Philosophy of Religion: East Meets West
ISBN: 978-1-405-14717-0 April 2008 Wiley-Blackwell 512 Pages
Download Product Flyer
Download Product Flyer
Download Product Flyer is to download PDF in new tab. This is a dummy description. Download Product Flyer is to download PDF in new tab. This is a dummy description. Download Product Flyer is to download PDF in new tab. This is a dummy description. Download Product Flyer is to download PDF in new tab. This is a dummy description.
Description
Through a diverse collection of carefully chosen selections,
Readings in Philosophy of Religion: East Meets West
offers an enlightening array of perspectives on Western and non-Western religious thought that makes more meaningful trans-cultural connections possible within philosophy of religion.


Includes a substantial selection of non-Western religious perspectives that are accessible to both students and instructors

Provides further clarity with comprehensive chapter introductions to orient reader to upcoming selections

Incorporates discussion of topics often neglected, such as religious non-realism, post-modernism, and feminist philosophy of religion
Table of contents
Acknowledgments.
Preface to the Instructor.
A Note on the Treatment of Non-English Names and Terms.
Section I: What is Philosophy of Religion?.
Section II: Characterizing Ultimate Sacred Reality.
Introduction:.
1. The Divine Attributes: What is God Like?: Michael Peterson, William Hasker, Bruce Reichenbach, and David Basinger.
2. The Female Nature of God: A Problem in Contemporary Religious Life: Rosemary Radford Ruether.
3. God as Creative-Responsive Love: John B. Cobb, Jr and David Ray Griffin.
4. The Vedic-Upanisadic Concept of Brahman (The Highest God): Sushanta Sen.
5. Emptiness in Mahayana Buddhism: Christopher Ives.
6. Reality and Divinity in Chinese Philosophy: Chung-Ying Cheng.
7. How the Supreme Nature Exists through Itself: Anselm of Canterbury.
8. Of the Unicity of God: Avicenna (Ibn Sina).
9. The Omnipotence of God: Thomas Aquinas.
10. Thinking and Speaking about God by Analogy: Thomas Aquinas.
11. Everything Has Its Self in Brahman: Shankara (Samkara).
12. An Analysis of Nirvā&ndot;a: Nagarjuna.
13. Non-Polar and Yet Supreme Polarity!: Zhou Dunyi (Zhou Lianxi).
Section III: The Role and Limits of Reason in Supporting Belief in an Ultimate Sacred Reality:.
Introduction.
14. A Cosmological Argument for God's Existence: Richard Taylor.
15. al-Ghāzāli and the Kalām Cosmological Argument: William Lane Craig.
16. Cosmological Arguments: J. L. Mackie.
17. How the Existence of God Explains the World and Its Order: Richard Swinburne.
18. Are We the Outcome of Chance or Design?: Robin Le Poidevin.
19. The Message of the Mā&ndot;&udot;dūkya Upani⋅ad: A Phenomenological Analysis of Mind and Consciousness: Ramakrishna Puligandla.
20. Antirationalism in Zhuangzi and Kierkegaard: Karen L. Carr and Philip J. Ivanhoe.
21. Truly There is a God: Anselm of Canterbury.
22. Whether God Exists?: Thomas Aquinas.
23. Evidence of Design: William Paley.
24. On the Argument from Design: David Hume.
25. Truth is Subjectivity: Søren Kierkegaard.
Section IV: The Rationality of Religious Belief in the Absence of Evidence:.
Introduction:.
26. The Will to Believe: William James.
27. Is Belief in God Properly Basic?: Alvin Plantinga.
28. Plantinga on Belief in God as Properly Basic: Michael Martin.
29. Religious Experience Justifies Religious Belief: William P. Alston.
30. Do Mystics See God?: Evan Fales.
31. Mystical Knowledge: Knowledge by Identity: Robert K. C. Forman.
32. The Difference between Union and Rapture: Teresa of Ávila.
33. Divine Intoxication: al-Ghazali (Abu Hamid).
34. Manifesting Suchness: Ehei Dogen.
Section V: Evil and the Rationality of Religious Belief:.
Introduction:.
35. Evil and Omnipotence: J. L. Mackie.
36. The Logical Problem of Evil: William Rowe.
37. An Irenaean Theodicy: John Hick.
38. The Evidential Problem of Evil: William Rowe.
39. The Concept of God after Auschwitz: A Jewish Voice: Hans Jonas.
40. Śa&mdot;kara's Theodicy: Bimal K. Matilal.
41. Karma, Rebirth, and the Problem of Evil: Whitley R. P. Kaufman.
42. Evil as a Privation of Good: Augustine of Hippo.
43. The Argument from Evil: David Hume.
44. Brahman, Creation, and Evil: Shankara (Samkara).
Section VI: Life after Death, Human Nature, and Personal Identity:.
Introduction:.
45. A Naturalistic Case for Extinction: Linda Badham.
46. Brain Science and the Soul: Donald MacKay.
47. The Resurrection of the Dead: Stephen T. Davis.
48. The Idea of Reincarnation: Joseph Prabhu.
49. Not-Self, Kamma, and Rebirth: Christopher Gowans.
50. Nondualistic Problems of Immortality: Roy W. Perrett.
51. The Immortality of the Soul: Plato.
52. The Conscious Subject Persists in the State of Release: Ramanuja.
53. What is Reborn is Neither the Same Nor Another: Anonymous (Translator T. W. Rhys Davids).
Section VII: Making Sense of Conflicting Religious Truth Claims:.
Introduction:.
54. A Religious Understanding of Religion: A Model of the Relationship between Traditions: John Hick.
55. In Defence of a Contented Religious Exclusivism: Jerome Gellman.
56. John Hick and the Question of Truth in Religion: Brian Hebblethwaite.
57. A Process Approach to Pluralism: John B. Cobb, Jr.
58. A Dynamic Unity in Religious Pluralism: A Proposal from the Buddhist Point of View: Masao Abe.
Section VIII: Questioning the Foundations of Inquiry and Mapping New Territory:.
Introduction:.
59. Anti-Realist Faith: Don Cupitt.
60. The Religious Necessity of Realism: Paul Badham.
61. Postmodernism and Religious Reflection: Merold Westphal.
62. The Ends of Metaphysics: Robert Kane.
63. Feminism and Analytic Philosophy of Religion: Sarah Coakley.
64. Heidegger and Buddhism: Michael E. Zimmerman.
65. Li and the A-theistic Religiousness of Classical Confucianism: Roger T. Ames.
Glossary.
Text Sources and Credits
Reviews
"An unusually wide-ranging reader including Hindu, Buddhist, Daoist and other "non-Western" perspectives as well as those from Judaism and Christianity."
Times Higher Education Supplement
<!--end-->
"A wonderful and unique collection, which combines uniformly excellent selections from Western philosophy of religion with some of the best analysis from Hindu, Buddhist, Daoist, and Confucian sources." John M. Fischer, University of California Riverside

"A brilliant set of readings in which Hindu, Buddhist, and Islamic sources (among others) are paired with classical and contemporary western philosophy of religion. Finally, we have a collection that promotes the practice of philosophy of religion in an exciting global, cross-cultural context." Charles Taliaferro, St. Olaf College
Features


Includes a substantial selection of non-Western religious perspectives that are accessible to both students and instructors

Draws on carefully selected non-Western readings from contemporary secondary sources to supplement current religious philosophy discussions

Provides further clarity with comprehensive chapter introductions to orient reader to upcoming selections

Incorporates strands of thinking often neglected, such as religious non-realism, post-modernism, and feminism