Ready-to-Use Activities for Before and After School Programs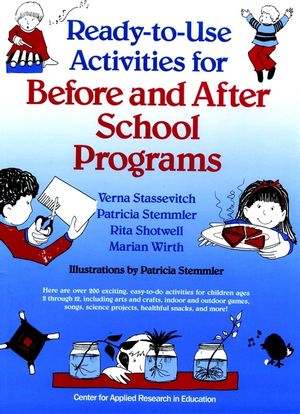 Ready-to-Use Activities for Before and After School Programs
ISBN: 978-0-876-28120-8
Feb 1998
260 pages
Description
This resource gives teachers and supervisors in extended day programs a store of high-quality yet easy-to-do activities that are both challenging and relaxing for children. The 200 activities included are so clearly presented that many students can complete them independently. Includes crafts, songs, rainy day activities, and more.
ARTS AND CRAFTS.

Watercolors, Markers, Fingerpaint.

Crafts.

Sculpture and Building.

Cutting and Collage.

Printing.

INDOOR AND OUTDOOR GAMES.

Ball-Bouncing Activities.

Rope-Jumping Activities.

Indoor Games.

Musical Games.

Outdoor Games.

Language Games.

SONGS AND FINGERGAMES.

Folk Songs.

Humorous Songs and Fingergames.

Rounds.

Original Songs and Fingergames.

For the Very Young.

SCIENCE AND NATURE.

HEALTHY SNACKS.

Fruits and Vegetables.

Breads, Cereals, Muffins.

Desserts.

Miscellaneous.

SPECIAL ACTIVITIES.

Media Projects.

Card Games with Regular Cards.

Humorous Short Stories to Act Out.

Useful Knots (8 years and up).