Ready-to-Use Conflict Resolution Activities for Secondary Students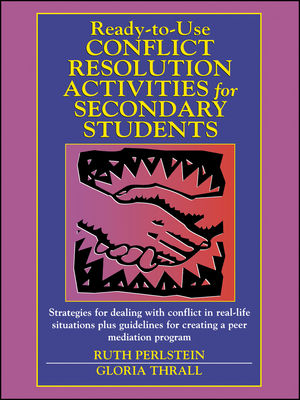 Ready-to-Use Conflict Resolution Activities for Secondary Students
ISBN: 978-0-130-42905-6 September 2001 Jossey-Bass 304 Pages
Download Product Flyer
Download Product Flyer
Download Product Flyer is to download PDF in new tab. This is a dummy description. Download Product Flyer is to download PDF in new tab. This is a dummy description. Download Product Flyer is to download PDF in new tab. This is a dummy description. Download Product Flyer is to download PDF in new tab. This is a dummy description.
Description
This practical resource gives counselors, coaches, and youth leaders a program for training secondary students in conflict resolution and peer mediation. Activities use typical adolescent scenarios and role-plays with reproducible handouts to make the skills involved in resolving conflicts relevant and accessible to students of all ability levels.
Cannot be combined with any other offers.
Original Price:$71.00
Purchased together:$53.25
save $17.75
Table of contents
PART ONE.
Section One: Defining Conflict.
1 Problem Characteristics.
2 Conflict and Underlying Needs.
3 Identifying the Problems: Against the Wall.
Section Two: Different Kinds of Conflict.
4 Kinds of Conflict.
5 Identifying a Conflict Within a Class.
6 Analyzing an Intergroup Conflict.
7 Sifting Through a Complex Conflict.
Section Three: Dealing With Conflict.
8 Learning About Conflict Management Styles.
9 Describing Conflict Management Styles: "Spots on the Wall".
10 Exploring Where Styles are Learned.
11 Listening to Other Approaches.
12 About Styles.
13 Which Style Will Work?
14 Observing Styles.
15 Advocating Peaceful Conflict Resolution.
Section Four: Understanding Different Points of View.
16 Viewing Pictures Differently.
17 Looking Through Our Own Glasses.
18 Looking at Symbols: Power or Poison.
19 Exploring Hot Buttons.
20 Listening to Another Point of View.
21 Exploring Cross-cultural Miscommunication.
22 Exploring Attitudes Toward Clothing.
23 Exploring Cultural Points of View.
24 Seeing the Same Event Through Different Eyes.
25 Sifting Through an Argument.
Section Five: Communicating.
26 Open Ended Questions.
27 Paraphrasing Content and Feeling.
28 Taking Another Look at Content and Feeling.
29 Paraphrasing in Concentric Circles.
30 Paraphrasing in a Circle.
31 Summarizing.
32 Toning It Down.
33 I and You Statements.
34 Delivering I Statements.
35 Nonverbal Communication.
36 Mixed Messages.
37 Communication Blockers.
38 Dealing With Your Own Anger.
39 Diffusing Someone Else's Anger.
Section Six: Collaborative Problem Solving.
40 Cooperation versus Competition: Rope and Square.
41 Understanding Problem-Solving Prerequisites.
42 Solving Problems: Defining, Exploring, Choosing.
43 Finding More Win-Wins.
44 A Visit to the Opera.
Section Seven: Mediating.
45 A Third Party.
46 A Good Mediator.
47 The Mediation Process.
48 Practicing Mediation.
49 Shifting from Position to Interest: A Trouble Spot.
50 Identifying the Interests.
51 Finding Solutions: Another Trouble Spot.
52 Refining Skills: The Introduction.
53 The Caucus.
54 Dealing with Difficult Problems.
55 Mediating with a Group.
56 Evaluating with Colored Paper .
57 Mediating Informally.
58 Ongoing Training 1.
PART TWO.
Section Eight: Conflict in the Counselor's Office.
59 Counselor as Mediator.
60 Seven Steps for Mediating a Dispute: "Amy and Shelley".
61 Conducting a Parent-Teacher-Student Conference.
62 Using Mediation to Prevent Serious Trouble.
63 Distinguishing Mediation from Counseling.
Section Nine: Conducting Counseling Groups.
64 Organizing Groups.
65 Conducting Group A (for "Victims").
66 Conducting Group B (Dealing With Conflict).
67 Blending Conflicting Groups.
68 The Unwilling, Mismatched Group.
Section Ten: Conflict Resolution in the Classroom.
69 Preventing Conflict in the Classroom.
70 Resolving Conflicts in the Classroom.
71 Dealing with undercurrents of Dissension.
72 Teacher-Student Conflicts.
73 Teaching the Concepts in Academic Classes.
74 Yugoslavia.
75 Taiwan and China.
76 I Know Why the Caged Bird Sings.
77 Huckleberry Finn.
78 King Lear's Problems.
79 More About King Lear's Characters.
80 The Physics Olympics.
Section Eleven: Extracurricular Activities.
81 Using Mediation to Resolve a Conflict: "My Fair Lady".
82 Using Collaborative to Resolve Activity Disputes.
83 Dealing With a Difficult Colleague.
84 Helping Students Deal with Anger.
85 Encouraging Nonviolence.
86 A Faculty Activity: Collaboration.
PART THREE.
Section Twelve: Setting Up a Peer Mediation Program.
87 Organizing a Peer Mediation Team Model.
88 Training Mediators.
89 Mediating Through a Class.
90 Ongoing Training.
91 Training Administrators and Counselors.
Section Thirteen: Publicizing Peer Mediation.
92 Using a Videotape.
93 Using the Art Department.
94 Spreading the Word.
Appendix.
Crossword Puzzle.
Exam.
Resources.