Ready-to-Use English Workshop Activities for Grades 6 - 12: 180 Daily Lessons Integrating Literature, Writing and Grammar Skills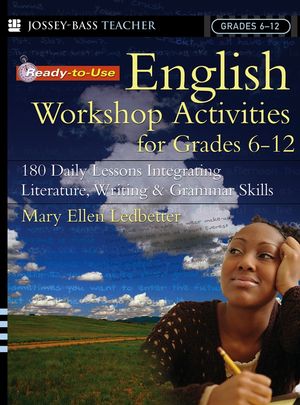 Ready-to-Use English Workshop Activities for Grades 6 - 12: 180 Daily Lessons Integrating Literature, Writing and Grammar Skills
ISBN: 978-0-787-97555-5
Mar 2005, Jossey-Bass
416 pages
Product not available for purchase
Description
This unique resource gives middle and secondary school English teachers 180 high-interest activities that build students' proficiency in the three major areas of the English curriculum—reading/literature, writing, and grammar. All the activities have been classroom tested, can be used with students of varying ability, and are effective as individual, group, or whole-class activities. For quick access and easy use, the activities are organized into 36 weekly packets—each packet including five "Dailies"—and printed in a big 8-1/4" x 11" lay-flat format for easy photocopying. Each "Dailies" activity begins with a well-written student passage followed by prompts that encourage students to examine the passage in terms of usage, stylistic devices, grammatical concepts, punctuation, and reading/literature skills. The activities require students to learn the rules that apply and to use the examples as springboards for their own writing. You'll find that these integrated "Dailies" activities are ideally flexible. They can be completed as "warm-ups" at the beginning of class, as mini-reviews for more advanced students, or serve as walk-through activities or homework assignments for students who need reinforcement. Each activity will lead to inquiry and lively discussion as students analyze the model passage and learn to write effectively. 
ABOUT THIS RESOURCE.
Philosophy of Daily Integration.
How to Use the Dailies.
How to Use the Glossary and Smiley-Face Tricks.
How to Grade the Dailies.
SMILEY-FACE TRICKS.
Magic 3.
Figurative Language.
Specific Details for Effect.
Repetition for Effect.
Expanded Moment.
Humor.
Hyphenated Modifiers.
Full-Circle Ending.
GLOSSARY OF TERMS.
Literature Terms.
Grammar Terms.
Writing Terms.
ACTIVITIES & SKILLS.
Dailies.
Answer Keys.
Imaginative approach to good writing skills using modeling, analysis and practice, building on exemplary student samples provided.
Relevant for mainstreamed, regular, and gifted students.
Encourages the use of stylistic devices such as rhythm, detail, figurative language, humor, and repetition to enliven writing.
Provides warm-ups, reviews, and focus lessons to strengthen skills in specific writing styles such as vignette, characer sketch, poem, etc.