Ready-to-Use Paragraph Writing Activities: Unit 3, Includes 90 Sequential Activities for Building Paragraph Writing Skills in Grades 6 through 12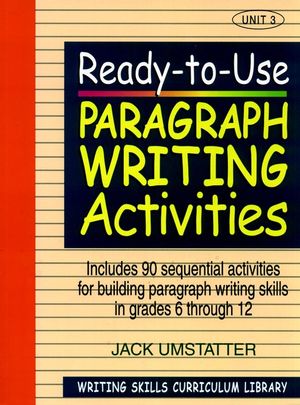 Ready-to-Use Paragraph Writing Activities: Unit 3, Includes 90 Sequential Activities for Building Paragraph Writing Skills in Grades 6 through 12
ISBN: 978-0-876-28484-1
Aug 1999, Jossey-Bass
152 pages
Product not available for purchase
Description
A practical series that provides over 540 stimulating, ready-to-use activity sheets to help teach and reinforce writing skills in middle/junior high and senior high school students, grades 6-12. Each unit in the series focuses on a different area of writing skills and is complete and self-contained, including 90 reproducible activities in a variety of formats, a brief teacher's guide to effective use of the activities and full answer keys. The activities can be used in any order in any developmental or corrective writing program to meet the specific needs of individual students, small groups, or an entire class.
About the Writing Skills Curriculum Library.

About Unit 3.

Teacher's Correction Marks.

SECTION ONE: STARTING UP.

SECTION TWO: BECOMING MORE EFFICIENT.

SECTION THREE: GENERATING IDEAS.

SECTION FOUR: ZEROING IN.

SECTION FIVE: DEVELOPING SKILLS.

SECTION SIX: IMAGINING THINGS.

Answer Key.