Ready-to-Use Reading & Study Skills Mastery Activities: Secondary Level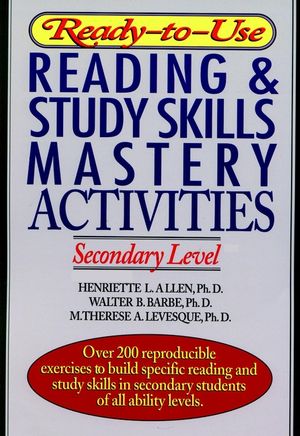 Ready-to-Use Reading & Study Skills Mastery Activities: Secondary Level
ISBN: 978-0-876-28593-0
Oct 1996, Jossey-Bass
256 pages
Description
This manual provides 218 reproducible activity sheets for quick, reliable practice in a broad range of basic to advanced reading and study skills. It also provides a reproducible Reading Skills Check List to help pinpoint individual or group needs and monitor students' progress in mastering specific skills. It is organized into six sections: vocabulary, word attack skills, basic comprehension, advanced comprehension, study skills, and creative writing.
About This Resource.

How To Use These Reading Skills Activities Most Effectively.

Reading Skills Check List--SECONDARY LEVEL.

Reading & Study Skills Activities--SECONDARY LEVEL.

PART ONE: VOCABULARY.

Word Recognition in Content.

Identifies Compound Words.

Root Words.

Prefixes.

Suffixes.

Knows Meanings of Terms in Vocabulary of Language.

WORD ATTACK SKILLS.

Knows Consonant Sounds.

Hears and Can Make Vowel Sounds.

Knows Elements of Syllabication.

Uses Accent Properly.

COMPREHENSION.

Understands Structure of Story or Paragraph.

Can Repeat General Idea of Material Read.

Can Remember Specific Important Facts.

Can Relate Material Read to Known Information or Experience.

Can Follow Printed Directions.

Can Interpret Hidden Meaning.

PART TWO: COMPREHENSION.

Interpretation

Application.

Analysis.

Synthesis.

Critical Evaluation.

STUDY SKILLS.

Uses Thesaurus, Almanac, Atlas, Maps, and Globes.

Uses Variety of Media to Complete Assignments and Purposes.

Uses Outlining and Note-Taking Skills.

Adjusts Reading Speed to Material and Purpose.

Demonstrates Independence in Locating, Selecting, and Using Materials to Own Purpose.

Applies Problem-Solving Approach: Identifies Problem, Gathers Information, Devises Possible Solutions, Selects Option, Uses Option, Evaluates.

Designs, Uses, and Revises Own Study Schedules.

Locates Sources Within a Book by Using Table of Contents and Index.

CREATIVE READING.

Recognizes Figurative Language, Dialect, and Colloquial Speech.

Understands Literary Forms.

Compares Value Systems of Characters.

Understands Settings: Social, Economic, and Educational.

Responds to Author's Background.

Responds to Author's Style of Mood and Point of View.

Answer Key.

Class Record of Reading & Study Skills: SECONDARY LEVEL.