Ready-to-Use Reading Activities for the Elementary Classroom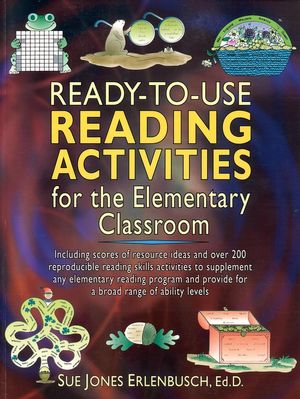 Ready-to-Use Reading Activities for the Elementary Classroom
ISBN: 978-0-130-54983-9
Jun 2000, Jossey-Bass
312 pages
Description
All of this material is conveniently organized into 12 monthly sections plus an introduction and is printed in a big 8-1/4" x 11" format for easy photocopying. Each of the monthly teaching ideas includes all of the details and directions you need to use it effectively in your own instruction. Ready-to-Use Reading Activities for the Elementary Classroom gives you a comprehensive store of fun-filled games and activities that will catch and hold your students interests while building specific reading skills throughout the year.
About This Book.

Skills Index.

September: Activities 1-1 through 2-26.

October: Activities 2-1 through 2-26.

November: Activities 3-1 through 3-24.

December: Activities 4-1 through 4-24.

January: Activities 5-1 through 5-22.

February: Activities 6-1 through 6-30.

March: Activities 7-1 through 7-22.

April: Activities 8-1 through 8-25.

May: Activities 9-1 through 9-4.

June: Activities 10-1 through 10-2.

July: Activities 11-1 through 11-2.

August: Activity 12-1.