Ready-to-Use Reading Proficiency Lessons & Activities: 4th Grade Level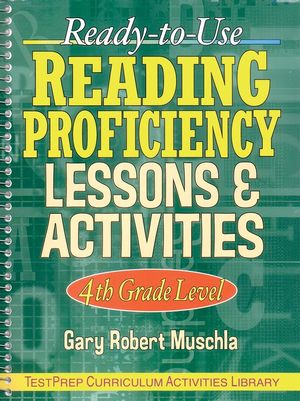 Ready-to-Use Reading Proficiency Lessons & Activities: 4th Grade Level
ISBN: 978-0-130-42445-7
Dec 2001, Jossey-Bass
315 pages
Description
This volume of Ready-to-Use Reading Proficiency Lessons & Activities gives classroom teachers and reading specialists a dynamic and progressive way to meet curriculum standards and competencies at the fourth-grade level. It provides stimulating and effective ways to help students master basic reading and language content, and prepare to demonstrate their knowledge at the appropriate level.
About Reading and Language Arts Instruction.
How to Use This Resource.
In each section:
Teaching Suggestions for the Worksheets.
Answer Key for Section.
Study Sheets.
Worksheets.
Practice Tests.
Practice Tests: Answer Sheets.
Keys to Practice Tests.
Section 1: Analogies.
Section 2: Vocabulary.
Section 3: Reading Comprehension.
Section 4: Spelling.
Section 5: Language Mechanics and Word Usage.
Section 6: Language Expression.
Appendix: Preparing Your Students for Standardized Proficiency Tests.