Ready-to-Use Violence Prevention Skills Lessons and Activities for Secondary Students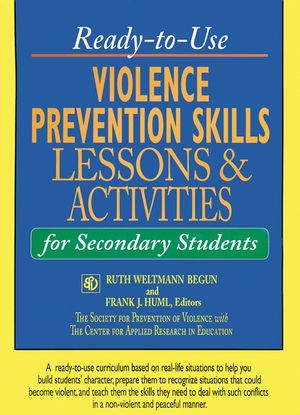 Ready-to-Use Violence Prevention Skills Lessons and Activities for Secondary Students
ISBN: 978-0-787-96691-1 April 1998 Jossey-Bass 256 Pages
Download Product Flyer
Download Product Flyer
Download Product Flyer is to download PDF in new tab. This is a dummy description. Download Product Flyer is to download PDF in new tab. This is a dummy description. Download Product Flyer is to download PDF in new tab. This is a dummy description. Download Product Flyer is to download PDF in new tab. This is a dummy description.
Description
Two self-contained volumes, for the elementary and secondary levels, featuring a ready-to-use curriculum of lessons and reproducible activity sheet to help students build character, recognize threatening situations, and handle conflicts safely. Lessons are based on real situations in students' own lives, with topics such as stimulant use, dealing with anger, family relationships, choosing friends wisely, and gang-related activities. Includes detailed lesson plans and an extensive bibliography of useful resources.
Cannot be combined with any other offers.
Original Price:$71.00
Purchased together:$53.25
save $17.75
Table of contents
About this violence prevention skills teaching resource.
Acknowledgements.
About the society for prevention of violence (SPV).
About the violence prevention skills curriculum.
Bibliography.
Violence prevention skills lessons and activities for secondary students.
To the teacher.
Violence prevention skill.
Life skills.
Making proper decisions.
Learning to be tolerant.
Responding to failure.
Learning to cope with life's problem by using social skills.
Respect.
Developing self-respect.
Dealing with disrespect.
Relationships.
Developing communication skills.
Establishing a good relationship.
Resolving conflicts peacefully.
Accepting responsibilities when exercising rights.
Understanding the importance of being selective.
Understanding male/female relationships.
Anger.
Understanding what "triggers" cause anger.
Managing anger.
Understanding the futility of revenge.
Family.
Supporting family harmony.
Understanding to distinguish discipline form punishment.
Understanding the needs of the elderly.
Coping with stressful family situations.
Understanding sibling rivalry.
Understanding that many different problems can cause family violence.
Stress and Danger.
Recognizing troublesome situations.
Reacting to extremely stressful situations.
Dealing with dangerous situations.
Managing threatening situations.
Coping with excessive stress.
Suicide.
Learning to trust others.
Dealing with deep depressions.
Stimulants.
Understanding the danger of addiction.
Understanding the consequences of taking stimulants.
Maintaining rational thinking.
Controlling depressive feelings.
Counteracting the desire for using stimulants.
Understanding that marijuana is a dangerous stimulant.
Understanding that effects of using household products as inhalants.
Understanding the danger from using "Gateway" drugs.
Reacting to behavior indicative of stimulant and drug abuse.
Understanding the harmful effects of drug use.
Seeking help to conquer drug addiction.
Crime.
Assessing friendship.
Selecting appropriate role models.
Exercising responsibility when using the media.
Distinguishing between wants and needs.
Dealing with "appetite" for illegal activities.
Realizing that consequences for criminal acts are unavoidable.
Coping with serious consequences.
Learning how to prevent date rape.
Realizing that guns do not assure safety.
Learning to respect guns and weapons.