Real Estate Accounting Made Easy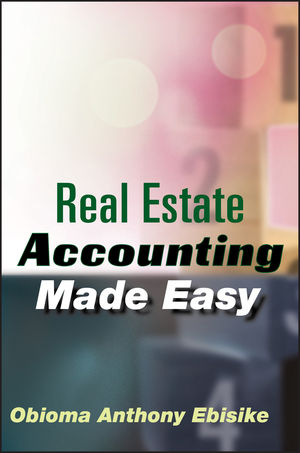 Real Estate Accounting Made Easy
ISBN: 978-0-470-64894-0 July 2010 208 Pages
Description
All the fundamentals of accounting and finance of the real estate industry-made easy
Providing both the theories and practices of real estate from an accounting and financial perspective, Real Estate Accounting Made Easy is a must-read for anyone who needs a thorough and easier understanding of the real estate industry.
Walks you through the audit processes, including how to prepare the audit and the different kinds of audits
Helps new auditors, the company being audited, and users of audit reports understand the fundamentals of the financial aspect of the real estate business
Includes forms of real estate ownership, sole ownership, partnerships, joint ventures and real estate investment trusts (REITs), including the advantages and disadvantages of these entities covered in detail
A practical guide to the field of real estate accounting and finance, this easy-to-understand introductory and intermediary book on the field of real estate begins with the elementary and basic aspects of real estate to ensure that those that are new to the field are comfortable with this often-complicated subject matter.
About the Author.
Preface.
Chapter 1 Introduction to Real Estate.
Types of Real Estate Assets.
Common Industry Terms.
Chapter 2 Basic Real Estate Accounting.
History of Double-Entry Bookkeeping.
Types of Accounts.
Accounting Methods.
Recording of Business Transactions in the Accounting System.
Journal Entries.
Basic Accounting Reports.
Chapter 3 Forms of Real Estate Organizations.
Sole Ownership.
Common and Joint Ownership.
Partnerships.
Joint Ventures.
Corporations.
Limited Liability Companies.
Real Estate Investment Trusts.
Chapter 4 Accounting for Operating Property Revenues.
Types of Leases.
Revenue Recognition.
Lease Classification.
Additional Cost Recoveries.
Operating Expenses Gross-up.
Contingent Rents.
Rent Straight-Lining.
Modification of an Operating Lease.
Sublease of Operating Lease.
Chapter 5 Accounting for Operating Property Expenses.
Operating Costs.
Chapter 6 Operating Expenses Reconciliation and Recoveries.
Most Common Recoverable Operating Expenses.
Most Common Nonrecoverable Operating Expenses.
Calculating Tenant Pro-Rata Share of Expenses.
Chapter 7 Lease Incentives and Tenant Improvements.
Lease Incentives.
Tenant Improvements.
Tenant Improvement Journal Entries.
Further Comparison of Lease Incentives and Tenant Improvements.
Differences in Cash Flow Statement Presentation.
Demolition of Building Improvement.
Chapter 8 Budgeting for Operating Properties.
What Is a Budget?
Components of a Budget.
Chapter 9 Variance Analysis.
Sample Operating Property Variance Analysis.
Salient Points on a Variance Analysis.
Chapter 10 Market Research and Analysis.
Market Research Defined.
Market Analysis Defined.
Market Research: Practical Process.
Chapter 11 Real Estate Valuation and Investment Analysis.
What Is Real Estate Valuation?
Approaches to Real Estate Valuation.
Chapter 12 Financing of Real Estate.
Equity.
Debt Financing.
Other Financing Sources.
Types of Loans.
Debt Agreements.
Financing Costs.
Relationship Between a Note and a Mortgage.
Accounting for Financing Costs.
Chapter 13 Accounting for Real Estate Investments and Acquisition Costs.
Methods of Accounting for Real Estate Investments.
Purchase Price Allocation of Acquisition Costs of an Operating Property.
Chapter 14 Accounting for Project Development Costs on GAAP Basis.
Stages of Real Estate Development Project.
Postdevelopment Stage.
Chapter 15 Development Project Revenue Recognitions.
Full Accrual Method.
Deposit Method.
Installment Method.
Reduced-Profit Method.
Percentage-of-Completion Method.
Cost Recovery Method.
Chapter 16 Audits.
Audit Overview.
Types of Audits.
Index.