Real Estate Accounting and Reporting: A Guide for Developers, Investors, and Lenders, 3rd Edition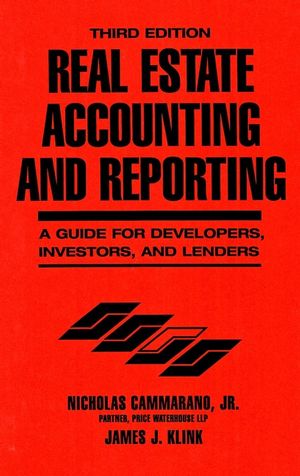 Real Estate Accounting and Reporting: A Guide for Developers, Investors, and Lenders, 3rd Edition
ISBN: 978-0-471-51069-7 May 1995 352 Pages
Description
Established as a standard in the field, this revised edition contains expanded coverage of forecasting, joint ventures, REITS and other securitization transactions as well as the latest accounting regulations and developments. Features complete coverage of accounting for costs in real estate sales and investments, financial reporting and analysis.
Table of contents
Overview of the Real Estate Industry.

Hierarchy of Generally Accepted Accounting Principles.

ACCOUNTING FOR REAL ESTATE COSTS.

Cost Capitalization and Allocation.

Impairment.

ACCOUNTING FOR REAL ESTATE SALES.

Criteria for Recording a Sale.

Tests for Profit Recognition--Adequacy of Down Payment.

Tests for Profit Recognition--Receivable from Buyer.

Tests for Profit Recognition--Seller's ContinuingInvolvement.

Alternative Accounting Methods.

Accounting for Condominium and Timeshare Sales.

Retail Land Sales.

Construction Contracts.

Leases.

Special Accounting Problems.

ACCOUNTING FOR INVESTMENTS IN REAL ESTATE VENTURES.

Real Estate Ventures: Introduction and AccountingBackground.

Accounting for Real Estate Venture Operations.

Accounting for Transactions Between Real Estate Ventures andTheir Investors.

Real Estate Loans that Qualify for Investment Accounting.

Special Investor Accounting Problems.

Securitization.

Current-Value.

Financial Reporting.

Glossary.

Bibliography.

Index.