Real Estate Appraisal: From Value to Worth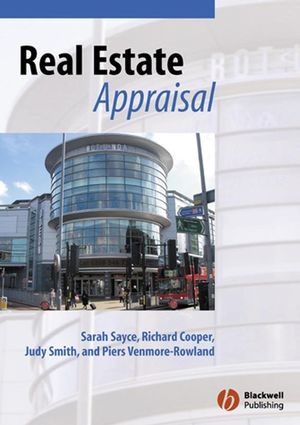 Real Estate Appraisal: From Value to Worth
ISBN: 978-1-405-17324-7
Feb 2009, Wiley-Blackwell
352 pages
Description
The education of the real estate professional is changing and aligning itself more closely with the world of business.
This book takes a new approach to property appraisal by exploring the pricing mechanism in this changing context. It:



develops the notion of the pricing mechanism in relation to property

covers practical issues of comparison and the real problems in applying valuation theory

explores calculations - including social and environmental worth - ignored in other texts
As real estate professionals now advise both on strategic and operational aspects of built assets, they must take into account practices of other investment markets and see investors as competitors to owner-occupiers. Both owner-occupiers and investors have to assess accurately how their buildings perform but also be aware of wider sustainability issues, and social and environmental responsibilities.
Real Estate Appraisal: from value to worth meets these new demands by examining the latest techniques of the marketplace; developing an understanding of both market appraisal and worth; and highlighting the emerging role of sustainability as a driver for decision-making in real estate.
Written by a group of highly experienced lecturers and professionals at the cutting edge of investment practice, the book has an accessible style and authoritative coverage, for both students and practitioners facing changes in established ways of working.

For supporting material please go to www.blackwellpublishing.com/sayce
Introduction



Introduction to the Purchase Decision



Property Investment: Placing Property Within The Multi-Asset Investment Spectrum



The Market Approach (): Rental Value



Assessing Capital Value: analysing discount rates



Issues of Leasehold Appraisal



Structuring Investment Appraisals to Determine Investment Worth



Risk within the Appraisal and Worth Process



Occupational Property: decision making and appraisal



Funding and Financial Structures



Measuring Return



Handling Risk within the Portfolio



Forecasting
.
Appendix A. Valuation and Finance Formula.
Appendix B. Worked Examples in the Chapters: information on how to download spreadsheets from the web site
Spreadsheets


The spreadsheets for this book is stored in a ZIP archive. You may require "Winzip (PC) or "Stuffit Expander" (Mac) to access these files.

Download


develops the notion of the pricing mechanism in relation to property

covers practical issues of comparison and the real problems in applying valuation theory

explores calculations - including social and environmental worth - ignored in other texts