Real Estate Riches: How to Become Rich Using Your Banker's Money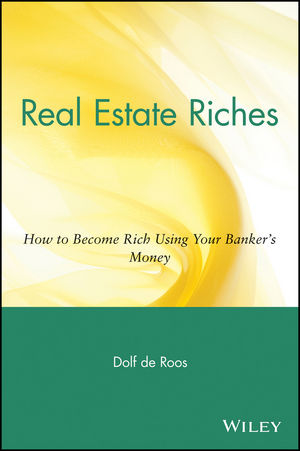 Real Estate Riches: How to Become Rich Using Your Banker's Money
ISBN: 978-0-471-71180-3 October 2004 224 Pages
Description
An all-time bestseller, Dolf de Roos?s classic Real Estate Riches shows you how to find great deals and make great profits in the real estate market. You?ll learn why real estate is such a reliable moneymaker and how to achieve the biggest return possible on your investment. Full of time-honored wisdom, proven tactics, and quick-and-easy tips, this book shows you how to find the best properties with the most potential, analyze deals, negotiate and submit offers, effectively manage properties, and dramatically increase the value of your real estate without spending much money. If you want to be your own boss and quit the nine-to-five life, Real Estate Riches shows you how.
Table of contents
Foreword
by Alex Rodriguez.
Praise for Real Estate Riches.
Acknowledgments.
Preface: I Don't Have a Job. Shame!
PART ONE: Why Is Property So Good?
CHAPTER 1: Four Magic Questions.
CHAPTER 2: Conspiracy Theory.
CHAPTER 3: A Taxing Issue.
CHAPTER 4: Beating the Averages Easily.
CHAPTER 5: Yes, But . . . .
CHAPTER 6: Summary: Why Invest in Real Estate?
PART TWO: Okay! Show Me How to Do It!
CHAPTER 7: The 100:10:3:1 Rule.
CHAPTER 8: Finding Properties.
CHAPTER 9: Analyzing Deals.
CHAPTER 10: Negotiations and Submitting Offers.
CHAPTER 11: Getting High on Opium (aka OPM).
CHAPTER 12: Massively Increase the Value of Your Properties (Without Spending Much Money).
CHAPTER 13: Managing Your Properties.
PART THREE: Liftoff!
CHAPTER 14: Residential versus Commercial Property.
CHAPTER 15: Government Interference.
CHAPTER 16: The Eight Golden Rules of Property.
CHAPTER 17: The World Is Your Oyster.
Appendix: Other Books by Dolf de Roos.
About the Author.
Index.