Real Options Analysis: Tools and Techniques for Valuing Strategic Investments and Decisions, 2nd Edition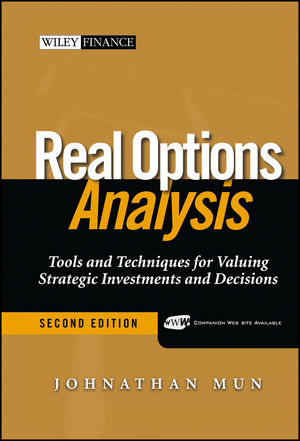 Real Options Analysis: Tools and Techniques for Valuing Strategic Investments and Decisions, 2nd Edition
ISBN: 978-0-471-74748-2
Nov 2005
704 pages
Product not available for purchase
Description
""Mun demystifies real options analysis and delivers a powerful, pragmatic guide for decision-makers and practitioners alike. Finally, there is a book that equips professionals to easily recognize, value, and seize real options in the world around them.""
--Jim Schreckengast, Senior VP, R&D Strategy, Gemplus International SA, France

Completely revised and updated to meet the challenges of today's dynamic business environment, Real Options Analysis, Second Edition offers you a fresh look at evaluating capital investment strategies by taking the strategic decision-making process into consideration. This comprehensive guide provides both a qualitative and quantitative description of real options; the methods used in solving real options; why and when they are used; and the applicability of these methods in decision making.
List of Figures.
Chapter Summaries.
PART ONE: Theory.
Chapter 1: A New Paradigm?
Chapter 2: Traditional Valuation Approaches.
Chapter 3: Real Options Analysis.
Chapter 4: The Real Options Process.
Chapter 5: Real Options, Financial Options, Monte Carlo Simulation, and Optimization.
PART TWO: Application.
Chapter 6: Behind the Scenes.
Chapter 7: Real Options Models.
Chapter 8: Additional Issues in Real Options.
PART THREE: Software Applications.
Chapter 9: Introduction to the Real Options Valuation's Super Lattice Software and Risk Simulator Software.
Chapter 10: Real Options Valuation Application Cases.
Chapter 11: Real Options Case Studies.
Chapter 12: Results Interpretation and Presentation.
Case Studies and Problems in Real Options.
Answer to Chapter Questions.
Notes.
About the CD-ROM.
Index.
.
A stand-alone guide for students in real options, with the Super Binomial Lattice (SBL) CD ROM for real options valuation. Extend licenses available to SBL, based on user needs. New options types such as Complex Sequential, Bermudan Options, Look-back Options have been added to CD-ROM.
Shows the basic techniques and common pitfalls of real option applications, using real world examples. More Excel models and real world problems have been added to revised edition.
Author regularly presents at practitioner and academic conferences, and consults with many major companies, on real option problems. His software has established itself as practitioners and students actively learning real option valuation techniques. More case studies from the experiences of leading multinational companies have been added.
End-of-chapter questions and instructor's materials on CD-ROM make book very useful for the university market.