Real World Project Management: Beyond Conventional Wisdom, Best Practices and Project Methodologies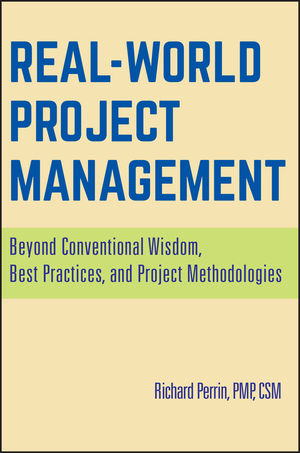 Real World Project Management: Beyond Conventional Wisdom, Best Practices and Project Methodologies
ISBN: 978-0-470-57376-1 February 2015 480 Pages
Description
If you're a project manager, you need this guide to fill in the gaps in the PM canon. The Project Management Institute's Body of Knowledge, fails to fully explain certain PM tools and how they work, among other failures. Real-World Project Management fills in those major gaps with irreverence, wit, and wisdom. For any kind of project you're managing, this book presents the high-quality tools and tactics you need to succeed.
Section 1. In the Project Trenches.
Introduction.
Chapter 1. So…Where Are We with Project Management and What's with All These Tools Anyway?
Chapter 2. The Quality Lesson – Can We Get It Right This Time?
Chapter 3. The 29.5 Minute Project Manager.
Chapter 4. The Dog Ate My Project Plan.
Chapter 5. The Hitchhiker's Guide to Project Management.
Chapter 6. Your Customer Is Talking – Are You Listening?
Chapter 7. Negotiating the Quality Quagmire'.
Section 2. Technical Tools for Quality Management, Risk Management, and Financial Management.
Chapter 8. Critical Chain Project Management.
Chapter 9. The Analytic Hierarchy Process.
Chapter 10. The Monte Carlo Analysis.
Chapter 11. The Decision Tree Analysis.
Chapter 12. The Seven Ishikawa Quality Tools.
Chapter 13. The Quality Functional Deployment (QFD).
Chapter 14. Financial Management and Risk Tools: The Real PV-NPV-IRR Calculations.
Chapter 15. Design of Experiments – An Introduction.
Chapter 16. Putting it All Together.
Epilog.