Real World Psychology, 2nd Edition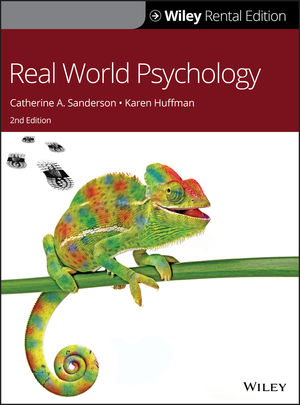 Real World Psychology, 2nd Edition
Description
Real World Psychology, 2nd Edition balances comprehensive coverage of the key concepts in introductory Psychology with a concise writing style and engages students with current and interesting research that explores these concepts in real-life contexts. Students will leave the course with an appreciation of how a basic knowledge of psychology can benefit them in their careers and daily lives.
PositivePsych offer numerous examples and applications from the field of positive psychology, applying key concepts in real world contexts with an emphasis on optimal human functioning.
Animations in WileyPLUS Learning Space illustrate difficult-to-learn concepts from a real world perspective right where they're discussed in the text.
UPDATED Teaching and Assessment Resources include an Instructor's Manual, Lecture PowerPoint and Media Enriched PowerPoint presentations, and a Test Bank.
UPDATED PsychScience offer an expanded discussion of the latest psychological research on various "Hot Topics", with a challenge to students to identify and discuss the type of research presented.
WileyPLUS Learning Space offers a powerful collection of MultimediaResources in addition to new Animations. These include 50 psychology videos connecting key psychology concepts and themes to current issues in the news, 30tutorial videos which provide students with explanations and examples of some of the most challenging concepts in psychology, and 20 virtual field trips showing visits to places such as a neuroimaging center, a film studio where 3-D movies are created, and a sleep laboratory.
Psychology and You helps students apply the concepts they are learning to their daily lives.