Real World SharePoint 2007: Indispensable Experiences From 16 MOSS and WSS MVPs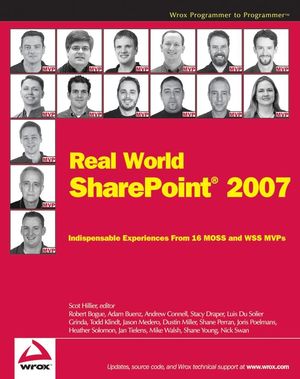 Description
This book represents the efforts of 16 MVPs in the SharePoint community to present core areas of SharePoint 2007 products and technologies seasoned with significant field experience. This book is for the community of SharePoint professionals including architects, designers, developers, administrators, and engineers. Readers should have prior experience with SharePoint 2007 products and technologies. The topics were selected by SharePoint MVP and Editor Scot Hiller to represent a cross-section of the most important areas within SharePoint. The chapters stand alone as independent articles.
Specifically, here's what the book covers:
Introduction by Mike Walsh
Forms Based Authentication by Stacy Draper: approaches to FBA, along with their strengths and weaknesses
SharePoint Administration by Todd Klindt: backup, recovery, command-line utilities
Developing Publishing Sites by Andrew Connell: challenges the conventional thinking
SharePoint Designer 2007 by Dustin Miller: a powerful part of your toolkit
Customizing and Branding the SharePoint 2007 Interface by Shane Perran and Heather Solomon: look and feel using master pages, style sheets, and graphics
Creating and deploying of Web Parts using C# by Jan Tielens
Robert Bogue creates custom workflows and forms for deployment in WSS using C#
Workflow in SharePoint Server 2007 by Joris Poelmans: coverage of InfoPath forms and how to use them with MOSS workflows
Business Data Catalog by Nick Swan: Using the BDC to allow MOSS to access line-of-business databases
Excel Services by Luis Du Solier Grinda: presenting spreadsheet data to users through a browser
Securing Communication by Adam Buenz: Secure Sockets Layer (SSL), Kerberos security, ISA Server.
Information Rights Management by Jason Medero: setting up IRM and using it with libraries to restrict documents
Different approaches to upgrading from SPS 2003 to MOSS 2007 by Shane Young
Foreword.
Introduction.
Chapter 1: Introduction to SharePoint.
Chapter 2: Configuring Forms Based Authentication.
Chapter 3: Understanding SharePoint Administration.
Chapter 4: Developing Publishing Sites the Smart and Structured Way.
Chapter 5: Using SharePoint Designer 2007.
Chapter 6: Customizing and Branding the SharePoint 2007 Interface.
Chapter 7: Understanding Web Parts.
Chapter 8: Creating Workflows in WSS.
Chapter 9: Creating Workflow in SharePoint Server 2007.
Chapter 10: Using the Business Data Catalog.
Chapter 11: Using Excel Services.
Chapter 12: Securing SharePoint Communication.
Chapter 13: Using Information Rights Management.
Chapter 14: Upgrading from SPS 2003 to MOSS 2007 Using the Gradual Method.
Index.
Chapter
Page
Details
Date
Print Run
1
4
Error in Text
paragraph beginning "Very little of what you...", end of 4th line:
delete "the"
10/11/07

---

1
4
Error in Text
paragraph beginning "Figure 1-2 is probably..." 2nd line:
"... all the pieces in the outer ring, including the..."

should be:
"... all the pieces in the outer ring and also includes..."
10/11/07

---

1
9
Error in Text
second paragraph in the Libraries and Lists section, 2nd line:
blogs
should be:
blobs
10/25/07

---

1
22
Error in Text
"Error! Hyperlink reference not valid"

should be:

file:///
08/21/2007

---

1
28
Replacement
next to last ital paragraph (beginning with "It is expected...") replace with:

There is a newer version of this document now titled "Microsoft SharePoint Products and Technologies Document: Microsoft Office Programs and SharePoint Products and Technologies Integration – Fair, Good, Better, Best" available at http://www.microsoft.com/downloads/details.aspx?familyid=e0d05a69-f67b-4d37-961e-2db3c4065cb9&displaylang=en&tm
10/03/2007

---

1
37
Error in Link
http://www.asaris.de/sites/walsh/Lists/WSSv3%20FAQ/V%20Books.aspx

should be:

http://wss.asaris.de/sites/walsh/Lists/WSSv3%20FAQ/V%20Books.aspx
10/03/2007

---

1
39
URL change
URL after the first paragraph has changed and should be:

http://wss.asaris.de/sites/walsh/Lists/KB%20Articles/V3%20Sorted%20By%20Date.aspx
10/26/07

---

149
Error in Figure
Figure 6-3 should be replaced with figure 168356 fg0603.png found in the downloads for this title.
09/27/07

---

6
154
Clarification
the file referred to in the book as mvp.master is named custom.master in the chapter 6 download.
08/17/2007

---

6
156
Error in Code
Code in step 9 and 11:

site images

should be:

resources

so:
step 9 becomes:
<asp:Image runat="server" id="Logo" ImageUrl="<% $SPUrl: ~site/resources/companylogo.gif %>"/>

step 11 becomes:
<asp:Image runat="server" id="Header" ImageUrl="<% $SPUrl: ~site/resources/companyheader.gif %>"/>
08/28/2007

---

6
179
Missing Website
is located at: <insert URL>

should be:

is located at www.wrox.com as described on page xxii of the Introduction.
08/30/2007

---

220
Error in TExt
"... In this example, the Departments Web Part will be the consumer and the Employees Web Part will be the provider."

should be:

"... In this example, the Departments Web Part will be the provider and the Employees Web Part will be the consumer."
02/25/2008

---

10
308
Error in Reference Url
3rd paragraph last sentence:
You can download the sample database from the Wrox web site...
should be changed to:

You can download the sample database from Microsoft at http://www.microsoft.com/downloads/details.aspx?FamilyID=487C9C23-2356-436E-94A8-2BFB66F0ABDC&displaylang=en
10/25/07

---

10
308
Error in Text
4th paragraph last sentence:
This application definition file is available...
should be changed to:,br>
This application definition file is available from Microsoft as part of the SharePoint Server 2007 SDK: Software Development Kit at http://www.microsoft.com/downloads/details.aspx?familyid=6d94e307-67d9-41ac-b2d6-0074d6286fa9&displaylang=en
10/25/07

---