Realist Evaluation: An Emerging Theory in Support of Practice: New Directions for Evaluation, Number 78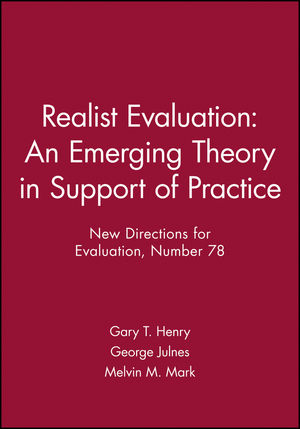 Realist Evaluation: An Emerging Theory in Support of Practice: New Directions for Evaluation, Number 78
ISBN: 978-0-787-91551-3 June 1998 Jossey-Bass 109 Pages
Description
Why is another theory of evaluation needed? The paradigm wars have left a void in their wake. A new theory, firmly grounded in a credible philosophy of science, is needed to guide practice. The aim of this volume is to provide a new theory that captures the sensemaking contributions from post-positivism and the sensitivity to values from constructivist traditions. The theory presented here is not a slap-dash synthesis of the competing paradigms--it is a new approach. Some of the contributions of the realist theory of evaluation are (1) providing a basis for principled discovery as we oscillate between explanations and data; (2) using explanation as a means for extrapolating findings from one evaluation to other settings; (3) viewing all methods, both quantitative and qualitative, as aids to sensemaking that have strengths and flaws; (4) connecting evaluation practice with the ultimate goal of most program evaluation--social betterment; and (5) balancing the focus of the evaluation between sensemaking and value inquiry. This is the 78th issue of the quarterly journal New Directions for Evaluation.
Table of contents
1. A Realist Theory of Evaluation Practice (Melvin M. Mark,
et al.
).
2. Evaluation as Sensemaking: Knowledge Construction in a Realist World (George Julnes & Melvin M. Mark).
3. Values and Realist Evaluation (Gary T. Henry & George Julnes).
4. Social Programming and Policy-Making: A Realist Perspective (Melvin M. Mark & Gary T. Henry).
5. A Realist Theory and Analysis of Utilization (Gary T. Henry & Debra J. Rog).
Epilogue: Experience Informing Theory Supporting Practice (George Julnes, et al.).