Recalling Our Own Stories: Spiritual Renewal for Religious Caregivers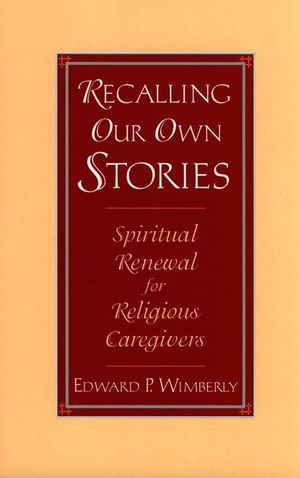 Recalling Our Own Stories: Spiritual Renewal for Religious Caregivers
ISBN: 978-0-787-90363-3
May 1997, Jossey-Bass
176 pages
Description
Reconnect with your original call to ministry and passion for caregiving with this spiritual reneretreat in book form.

Clergy and other professional religious caregivers routinely find that parishioners and clients expect from them a superhuman level of empathy and love?a level that embodies God's love. Many of these caregivers expect no less of themselves. This myth of perfection often leads to burnout in caregivers, who then run the risk of damaging themselves and others.

Minister and counselor Edward P. Wimberly crafts a powerful and innovative path to renewal based on his popular workshops and retreats. He guides religious professionals?trained to attend to the stories of others?to reexamine the personal and professional stories that shape their own lives as individuals, family members, and ministers. Recalling Our Own Stories, a spiritual renewal retreat in book form, guides religious professionals in reconnecting with their original calling. Most important, it offers readers ways to reauthor their personal mythologies, giving them renewed vigor in ministry and caregiving.

Wimberly shares the varied life stories of caregivers of diverse cultural backgrounds while walking readers through the process of revisiting their lives, recognizing unrealistic expectations, and transforming wounded beliefs into sources of compassion, strength, and renewal.
1. To Be Called Anew: Finding Spiritual Replenishment in Our Own Stories.

2. Personal Myths: Stories That Empower Us or Leave Us Vulnerable.

3. Marital and Family Myths: Stories That Affect Our Relationships with Loved Ones.

4. Ministry Myths: Stories That Help or Hinder Us in Serving God.

5. The Possibility of Change: Reauthoring the Myths That Bind Us.

6. Suzanne: Allowing the True Self to Surface.

7. James and Hope: Understanding Who Called Us to Ministry.

8. Blanche and Henry: Seeing Our Spouses for Who They Are.

9. Zelda and David: Seizing the In-Between Moments When Change is Possible.

10. From Walking Wounded to Wounded Healer: What to Expect on the Journey.
"A creative and practical work."

"This book teaches us how to care; not only for ourselves, but for those who care among us. Based on sound and mature spiritual and psychological principles, Recalling Our Own Stories will serve as an antidote for burnout as no other work can." (Brian H. Childs, PhD, Professor of Pastoral Theology and Counseling, Columbia Theological Seminary)

"Wimberly moves beyond the individualistic focus of many books on self-care of religious caregivers, and attends to how cultural myths about gender and ethnicity interact with personal and familial myths to shape our religious vocations as caregivers. This is a refreshing and thoughtful resource to those of us who want to remember and reclaim our vocations." (Carrie Doehring, Assistant Professor of Pastoral Psychology, School of Theology, Boston University)

"Religious caregivers will find the process of reauthoring myths, described through Wimberly's own vulnerability and a wide range of case studies, a powerful personal resource." (Bishop S. Clifton Ives, The United Methodist Church, West Virginia Area)

"This book provides a warm invitation to vital spiritual growth by exploring the pivotal stories and images that give us roots for our life journey. A wonderful resource." (Richard A. Hunt, PhD, Graduate School of Psychology, Fuller Theological Seminary)