Recent Advances in Physiotherapy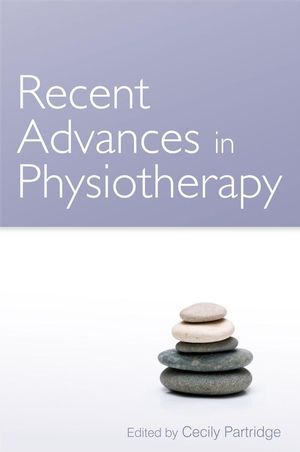 Recent Advances in Physiotherapy
ISBN: 978-0-470-02542-0 April 2007 268 Pages
Description
Like Partridge: Neurological Physiotherapy: Bases of Evidence for Practice, each chapter in Recent Advances in Physiotherapy features a case report provided by a team of clinicians based on details from a real patient. This book of recent advances provides readers with a way of keeping up-to-date with recent work in the discipline of physiotherapy, based on the evidence for current practice.
Contributors.
Introduction (Cecily Partridge).
I CARDIORESPIRATORY.
1 Physiotherapy and the Adult with Non-Cystic Fibrosis Bronchiectasis (Jennifer A. Pryor).
2 Coordinated Management of a Patient in ICU with Cardiorespiratory Failure (Elizabeth Dean).
II SURGICAL.
3 Abdominal Surgery: The Evidence for Physiotherapy Intervention (Linda Denehy and Laura Browning).
III NEUROLOGICAL.
4 Practice and Feedback for Training Reach-to-Grasp in a Patient with Stroke (Paulette M. Van Vliet and Katherine Durham).
5 ImprovingWalking After Stroke Using a Treadmill (Louise Ada and Catherine M. Dean).
6 Treatment of the Upper Limb Following Stroke: A Critical Evaluation of Constraint Induced Movement Therapy (Martine Nadler).
IV PAIN MANAGEMENT.
7.1 An Introduction to Current Concepts of Pain (Lester Jones).
7.2 Non-Specific Arm Pain (Lester Jones).
7.3 Recurrent Lumbar Pain after Failed Spinal Surgery (Lester Jones and Audrey Wang).
V MUSCULOSKELETAL.
8 Evidence for Exercise and Self-Management Interventions for Lower Limb Osteoarthritis (Nicola Walsh).
9 Using Evidence-Based Practice for Upper Extremity Musculoskeletal Disorders (Joy C. MacDermid).
VI ORTHOPAEDIC.
10 Physiotherapy Rehabilitation Following Primary Total Knee Arthroplasty (Justine Naylor, Alison Harmer and Richard Walker).
Index.