Receptor Localization: Laboratory Methods and Procedures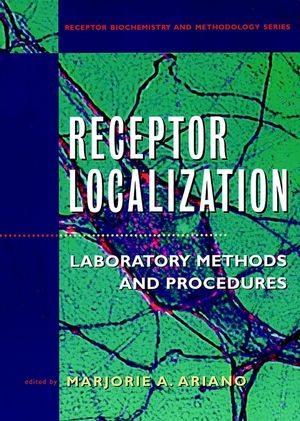 Receptor Localization: Laboratory Methods and Procedures
ISBN: 978-0-471-19524-5 July 1998 264 Pages
Description
The detection of neurotransmitter receptor locations and distribution densities within the central nervous system and peripheral tissues is receiving intense attention within the neuroscience research community. Neurotransmitter receptors, which receive the chemical signals sent from one neuron to another, are critical links in a highly complex information-processing chain. Pinpointing receptor sites and systems is crucial for understanding neurological function as well as dysfunction. It is also essential for understanding how receptors process information when impacted by such substances as heroin or nicotine, or when affected by neurodegenerative disease.

Receptor Localization: Laboratory Methods and Procedures is the first user-friendly guide to the latest techniques and approaches being employed to examine the localization of neurotransmitter receptors in the central nervous system and peripheral tissues. It covers detection methods that are applicable to a wide variety of receptor systems, ranging from genes and ligands to in vito receptors in individuals; and to numerous receptor subtypes, such as nicotine, muscarine, tackykinins, dopamine, adenosine, and GABA. The standard laboratory "recipes" or "tricks" employed in these detection methods are fully discussed, as are the advantages and limitations of each procedure. With contributions from leading experts and extensively illustrated, this book:
* Discusses receptor ligand binding methods using irreversible and reversible compounds
* Presents antireceptor antisera technology using synthetic peptides and fusion proteins at both the cellular and subcellular resolution levels
* Examines molecular assessments of receptors
* Describes in situ hybridization, reverse transcriptase-PCR, and fluorescent in situ transcription
* Covers new visualization paradigms
* Includes physiological analysis of receptor function, cellular detection in the brain slice, and cultured neurons
* Discusses the use of PET and SPECT to assess in vivo receptor distributions in animals and humans


Receptor Localization: Laboratory Methods and Procedures is an invaluable guide for researchers in the related fields of neurology, biochemistry, and pharmacology. Its lucid descriptions of new detection methods, inclusion of experimental examples, and emphasis on how these experimental approaches are applicable to particular research areas will appeal to both the experienced researcher and novice investigator.
Buy Both and Save 25%!
Original Price:$486.95
Purchased together:$365.21
save $121.74
Cannot be combined with any other offers.
Autoradiography of Irreversible Ligands/Toxins: Nicotinic Acetylcholine Receptors (E. Sorenson & V. Chiappinelli).

Autoradiography of Reversible Ligands (J. Maggio & P. Mantyh).

Fluorescent Ligand Binding in Slices and Culture Systems (M. Ray & M. Ariano).

Glutamate Receptor Antibodies: Production and Immunocytochemistry (R. Petralia & R. Wenthold).

Receptor Fusion Proteins and Analysis (M. Gilmor, et al.).

Immunochemical Analysis of Neurotransmitter Receptors (T. Swanson & S. Rivkees).

Subcellular Localization of Receptors Using Electron Microscopy (H. Yi & S. Hersch).

Infrared Video Microscopy: Visualization and Manipulation of Neurons in Neostriatal Slices (M. Levine, et al.).

Localization of mRNAs Encoding Receptors with In Situ Hybridization Histochemistry (M.-F. Chesselet).

The Application of RT-PCR Techniques to the Analysis of mRNA in Tissue and Single Cells (Z. Yan, et al.).

Detection of Receptor mRNA Using Fluorescent In Situ Transcription (K. Noblett & M. Ariano).

Imaging Dopamine Receptors on Living Neurons in Culture (S. Rayport).

Receptor Measurements Using PET and SPECT (S. Gatley, et al.).

Index.
"…an excellent handbook for the budding neuroscientist and should deserve attention for its conciseness and clarity." (
Yale Journal of Biology and Medicine
, May 2003)
"This book is the first in a newly launched series of text dedicated to receptor biochemistry and methodology." (Annals of Clinical Biochemistry).