Recharge: Lessons to Revitalise Yourself, Your Team or Your Business in 60 Minutes or Less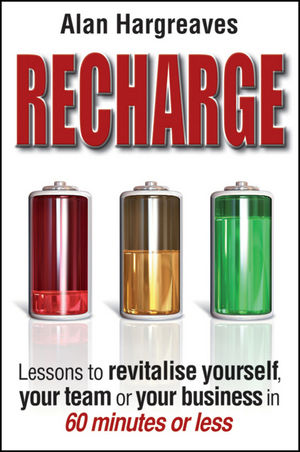 Recharge: Lessons to Revitalise Yourself, Your Team or Your Business in 60 Minutes or Less
ISBN: 978-0-730-37522-7
Jan 2011, Wrightbooks
224 pages
Description
Do you need a RECHARGE?
Most people do. Even the most talented people get bogged down every now and again.
The main cause of business failure is the failure to take action because making the first move can be hard! But you can start now…by reading this book!
Recharge will revitalise your entire approach to business. Each of the 52 performance-enhancing lessons is designed to be read, absorbed and acted on in 60 minutes or less: from your management style to your financial decision-making to self-motivation. Inside you'll find jargon-free information that will help you achieve many of the things you have been putting off for months, or even years.
Written for entrepreneurs, small business owners, executives, managers and employees, Recharge provides simple but powerful tools to:
Get you over a hump
Get through an issue
Get fired up
Get into action!
About the author.
Acknowledgements.
Introduction.
Part I Recharge yourself.
1 Mission, strategy and action.
2 Begin with some simple action.
3 Recharge your management style.
4 Focus on your strengths.
5 Become the expert.
6 Start your own think tank.
7 Surf the cycle.
8 Address uncomfortable issues.
9 Identify your strongest assets.
10 Be open.
Part II Recharge your finances.
11 Review the essentials.
12 Check your cash flow management.
13 Manage working capital.
14 Develop a clear credit policy.
15 Develop a range of fi nancing options.
16 Work with banks.
17 Understand the cost of capital.
18 Understand the time value of money.
19 Know what your business is worth.
20 Know how to work with multiples.
21 Understand public funding.
22 Rent or buy?
23 Understand forecasts and analyses.
Part III Recharge your team.
24 Start serving.
25 Work with others.
26 Develop a motivated team.
27 Structure a functional team.
28 Manage the team.
29 Maintain performance.
30 Decide who will do it.
31 Handle diffi cult employees.
32 Let people go.
Part IV Recharge your firm.
33 Manage your business ecology.
34 Work with suppliers.
35 Serve the owners.
36 Buy new business lines.
37 Assess your acquisition.
38 Deal with crises.
39 Analyse your competition.
40 Monitor your performance targets.
41 Manage your risk.
42 Are you growing or ageing?
43 Use limited resources.
Part V Recharge your marketing.
44 Show me the money.
45 The marketing mix.
46 Establish your brand.
47 Organise your marketing.
48 Placing and promoting.
49 Weave a wider web.
Part VI Staying recharged.
50 Look at the big picture.
51 Put it all together.
52 Remain recharged.
Index.