Reclaiming Work: Beyond the Wage-Based Society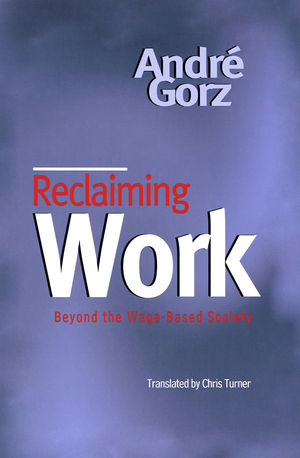 Reclaiming Work: Beyond the Wage-Based Society
ISBN: 978-0-745-62128-9
Nov 1999
192 pages
Description
Over the last twenty-five years, Western societies have been reversing into the future.
Introduction.
1. From the Social State to the Capital State.
2. The Latest Forms of Work.
3. The Lost Magic of Work.
4. Moving Beyond Wage-Based Society.
Epilogue.
Digression I: Community and Society.
Digression II: Alain Touraine or the Subject of Criticism.
Notes.
Index.
'It is to Gorz...(excellently translated by Chris Turner), that readers should turn for a compelling combination of sharp analysis, well wrought polemic, and suggestions for the future.'
Red Pepper
'The author successfully combines a thorough analysis of recent development of work with a vision of a transformation of society.' British Journal of Industrial Relations

'Gorz maps out a proposed path to a better world of work, in which work would combine elements of creativity, play, community service, self-provision, and caring, all loosely linked in a life of "multi-activity" ... This sounds far indeed from the world of work we know. But, Gorz argues, the current economy - not some far-distant future - holds the potential for this utopia.' Work, Organizations, and Markets
* A major new work by one of the leading social and political thinkers of our time.
* Offers a fundamental reassessment of the future of work, at a time when the role of work in our lives is being transformed by profound economic and technological changes.
*Argues that we should adopt radical policies - such as a reduction in working hours and a basic income for all - which would enable us to reclaim work and build a future beyond a wage-based society.