Reclaiming the Sociological Classics: The State of the Scholarship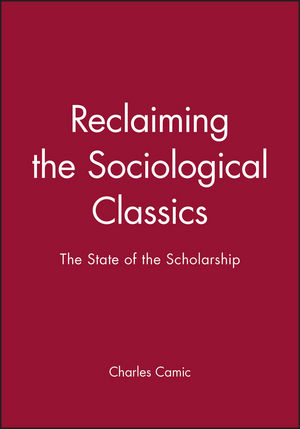 Reclaiming the Sociological Classics: The State of the Scholarship
ISBN: 978-1-577-18030-2
Jan 1998, Wiley-Blackwell
316 pages
Description
This volume is a collection of original essays by sociologists and intellectual historians who have been leading figures in recent scholarship on the classical sociological theorists.
List of Contributors.
Introduction: Classical Sociological Theory as a Field of Research: Charles Camic (University of Wisconsin at Madison).
1. A New Look at Auguste Comte: Mary Pickering (San Jose State University).
2. Rethinking Marx: Moishe Postone (University of Chicago).
3. Spencer and His Critics: Valerie A. Haines (University of Calgary).
4. Classical Social Theory with the Women Founders Included: Lynn MacDonald (University of Guelph).
5. The Other Durkheim: History and Theory in the Treatment of Classical Sociological Thought: Robert Alun Jones (University of Illinois at Urbana).
6. Simmel Reappraised: Old Images, New Scholarship: Donald N. Levine (University of Chicago).
7. Max Weber's Sociology: Research Strategies and Modes of Analysis: Stephen Karlberg (Boston University).
8. W. I. Thomas and Robert E. Park: Conceptualizing, Theorizing, and Investigating Social Process: Martin Bulmer (University of Surrey).
9. George Herbert Mead and the Renaissance of American Pragmatism in Social Theory: Hans Joas (University of Berlin).
10. Acclaiming the Reclaimers: the Trials of Writing Sociology History: Alan Sica (Pennsylvania State University).
Index.
"This is the most enjoyable and important book on social theory that I have read in a long time." BSA Network October 1998
* A collection of original essays by leading figures on the state of the scholarship in classical theory.
* Combines revisionist and presentist approaches to reclaiming sociologys rich intellectual past.
* Dispels longstanding stereotypes about the lives and works of classical theorists and proposes major revisionist reinterpretations of their thought.