Recommendations of the Committee for Waterfront Structures Harbours and Waterways EAU 2004, 8th Edition; Translation of the 10th German Edition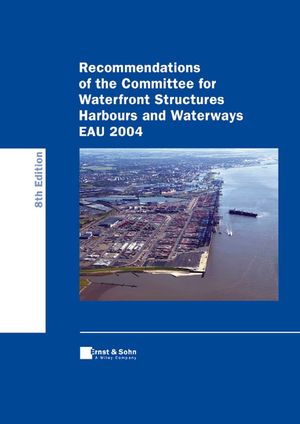 Recommendations of the Committee for Waterfront Structures Harbours and Waterways EAU 2004, 8th Edition; Translation of the 10th German Edition
ISBN: 978-3-433-60141-9
Dec 2005
660 pages
Description
Since 1949 the "Committee for Waterfront Structures" has operated on honorary base as a committee of the Society for Harbour Engineering (HTG), Hamburg, and since 1951 also as working group of the German Society for Geotechnics (DGGT), Essen. Its full designation reads "Committee for Simplification an Standardization of Calculation and Construction of Waterfront Structures", which also outlines its goals. Following on from the previous joint publications, this new edition of EAU 2004 contains the safety concept with partial safety factors in accordance with the Eurocodes or the European prestandards as well as with the new edition of the corresponding German standard, partially differing on account of practice experiences. The recommendations continue to satisfy the requirements for international acknowledgement and application with regard to planning, design tendering, the awarding of contracts, building and building supervision. Further, the inspection and accounting procedures for harbour and waterway constructions are given from uniform points of view.
Statical calculations.
1. Subsoil.
2. Active and passive earth pressures.
3. Overall stability, foundation failure and sliding.
4. Water levels, water pressure, drainage.
5. Ship dimensions and loads on waterfront structures.
6. Configuration of cross-section and equipment for waterfront structures.
7. Earthwork and dredging.
8. Sheet piling structures.
9. Anchor piles and anchors.
10. Waterfront structures, quays and superstructures of concrete.
11. Piled structures.
12. Embankments.
13. Dolphins.
14. Experience with waterfront structures.
15. Monitoring and inspection of waterfront structures in seaports.
Annex I: Bibliography.
Annex II: List of Conventional Symbols.
Annex III: List of Keywords.