Reconditioning and Maintenance of Concrete Structures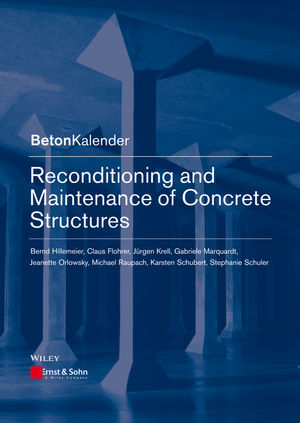 Reconditioning and Maintenance of Concrete Structures
ISBN: 978-3-433-03043-1
Dec 2015
210 pages
Product not available for purchase
Description
The rehabilitation and maintenance of concrete structures takes place in the tense atmosphere of the different interests of client, building authorities, construction companies and material manufacturer. All involved parties should be interested in a general logical guaranteed concept of repair and maintenance measures necessary for a specified lifetime.
This book gives a comprehensive overview about technology, corrosion mechanisms and measures for the rehabilitation of concrete. The fundamentals of inventory and damage diagnosis and the influence of the applied concrete basis materials as well as the various attack mechanisms are explained in detail. Numerous indications for the tailor-made choice and planning of maintenance measures are given. The work is constant practically oriented and reflects the rich treasure of experience of the authors. Some "rules for good concrete" help to avoid damages such as the design of robust constructions, the choice and composition of basis materials, the detailed work schedule and concrete curing and specialized experienced staff.

Selected chapters from the German concrete yearbook are now being published in the new English "Beton-Kalender Series" for the benefit of an international audience.
Since it was founded in 1906, the Ernst & Sohn "Beton-Kalender" has been supporting developments in reinforced and prestressed concrete. The aim was to publish a yearbook to reflect progress in "ferro-concrete" structures until - as the book's first editor, Fritz von Emperger (1862-1942), expressed it - the "tempestuous development" in this form of construction came to an end. However, the "Beton-Kalender" quickly became the chosen work of reference for civil and structural engineers, and apart from the years 1945-1950 has been published annually ever since.

Introduction
Technical rules and standards
- The evolution of technical standards
- The European standard EN 1504
- The Construction products Act and German Construction products lists
- The European Chemicals Act REACH (Registration, Evaluation, Authorisation and Restriction of Chemicals)
Carful new building instead of subsequent retrofit
- Ten rules for concrete
- Concrete base materials
- Synthetic materials
Attacks on reinforced concrete and damage mechanisms
- Physical mechanisms
- Chemical mechanisms
- Electrochemical mechanisms
- Biological mechanisms
Inventory and damage assessment
- Damage identification
- Incompatible materials
Repair
- Principles and methods in case of degradation of concrete structures and reinforcement corrosion
- Durability
- Rehabilitation measures and procedure
Special procedures
- Re-alkalization
- Kathodical corrosion protection
- Fibre reinforced shotcrete
- Strengthening
- Glass-Lining
- DUCON -
Ductile Concrete
Abbreviations
References