Recurrent Magnetic Storms: Corotating Solar Wind Streams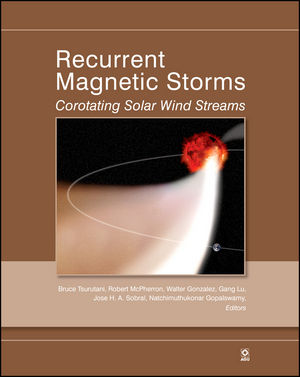 Recurrent Magnetic Storms: Corotating Solar Wind Streams
ISBN: 978-0-875-90432-0 January 2006 American Geophysical Union 340 Pages
Description
Published by the American Geophysical Union as part of the Geophysical Monograph Series, Volume 167.

This book reviews our current understanding of magnetic storms and geomagnetic activity that occur during the declining and the minimum phases of the solar (sunspot) cycle. From discussion of solar and interplanetary phenomena that affect the magnetosphere, ionosphere and atmosphere, with special focus on how underlying processes interact, readers will gain advanced perspectives on continuing research and new research needs.

Recurrent Magnetic Storms: Corotating Solar Wind Streams sets the stage for evolving future explanations of fundamental response of the interplanetary and global systems to the sun. Scientists, researchers, and students who work in Magnetospheric Physics, Aeronomy, Solar and Interplanetary Physics, and who have specific interest in Space Weather phenomena, will find this book an important resource.
Preface
Bruce T. Tsurutani, Robert L. McPherron, Walter D. Gonzalez, Gang Lu, José Humberto A. Sobral, and Nat Gopalswamy i
Foreword
Sir Arthur C. Clarke ix
Magnetic Storms Caused by Corotating Solar Wind Streams
Bruce T. Tsurutani, Robert L. McPherron, Walter D. Gonzalez, Gang Lu, Nat Gopalswamy, and Fernando L. Guarnieri  1
The Solar Wind: Then and Now
Joseph V. Hollweg 19
The Role of Comet Tails in the Discovery of the Solar Wind and Its Spatial and Temporal Variations
D. A. Mendis 31
The Formation of CIRs at Stream-Stream Interfaces and Resultant Geomagnetic Activity
I. G. Richardson  45
The Freestream Turbulence Effect in Solar-Wind/Magnetosphere Coupling: Analysis Through
the Solar Cycle and for Various Types of Solar Wind
Joseph E. Borovsky and John T. Steinberg 59
Modeling the Behavior of Corotating Interaction Region Driven Storms in Comparison
With Coronal Mass Ejection Driven Storms
Vania K. Jordanova 77
Ring Current Behavior Inferred From Ground Magnetic and Space Observations
F. Søraas, M. Sørbø, K. Aarsnes, and D. S. Evans 85
High-Speed Streams, Coronal Mass Ejections, and Interplanetary Shocks: A Comparative Study
of Geoeffectiveness
G. Lu 97
Energetics of Magnetic Storms Driven by Corotating Interaction Regions:
A Study of Geoeffectiveness
Niescja E. Turner, Elizabeth J. Mitchell, Delores J. Knipp, and Barbara A. Emery 113
The Solar Wind and Geomagnetic Activity as a Function of Time Relative to
Corotating Interaction Regions
Robert L. McPherron and James Weygand 125
The Role of Radial Transport in Accelerating Radiation Belt Electrons
Xinlin Li  139
Mechanisms for the Acceleration of Radiation Belt Electrons
Richard B. Horne, Nigel P. Meredith, Sarah A. Glauert, Athina Varotsou, Daniel Boscher,
Richard M. Thorne, Yuri Y. Shprits, and Roger R. Anderson  151
Magnetospheric Energetics During HILDCAAs
W. D. Gonzalez, F. L. Guarnieri, A. L. Clua-Gonzalez, E. Echer, M. V. Alves, T. Ogino, and B. T. Tsurutani  175
Energetic Neutral Atom Observations During Recurrent Magnetic Storms
J.-M. Jahn and H. A. Elliott  183
Global Auroral Response to Interplanetary Media With Emphasis on Solar Wind Dynamic
Pressure Enhancements
Kan Liou 197
IMF By and the Spatio-Temporal Structure of the Dayside Aurora
P. E. Sandholt, C. J. Farrugia, E. J. Lund, and W. F. Denig 213
The Nature of Auroras During High-Intensity Long-Duration Continuous AE Activity (HILDCAA)
Events: 1998 to 2001
F. L. Guarnieri 235
Dayside Ionospheric (GPS) Response to Corotating Solar Wind Streams
B. T. Tsurutani, A. J. Mannucci, B. A. Iijima, A. Komjathy, A. Saito, T. Tsuda, O. P. Verkhoglyadova,
W. D. Gonzalez, and F. L. Guarnieri 245
A Statistical Study of Ionospheric Irregularities Observed With a GPS Network in Japan
Y. Otsuka, T. Aramaki, T. Ogawa, and A. Saito 271
Magnetic Storm Associated Disturbance Dynamo Effects in the Low and Equatorial
Latitude Ionosphere
M. A. Abdu, J. R. de Souza, J. H. A. Sobral, and I. S. Batista  283
Selected Upper Atmospheric Storm Effects
Gerd W. Prölss 305
Response of the Upper/Middle Atmosphere to Coronal Holes and Powerful High-Speed
Solar Wind Streams in 2003
J. U. Kozyra, G. Crowley, B. A. Emery, X. Fang, G. Maris, M. G. Mlynczak, R. J. Niciejewski, S. E. Palo, L. J. Paxton, C. E. Randall, P.-P. Rong, J. M. Russell III, W. Skinner, S. C. Solomon, E. R. Talaat, Q. Wu, and J.-H. Yee 319