Red Hat® Linux® 8: Your visual blueprintTM to an open source operating system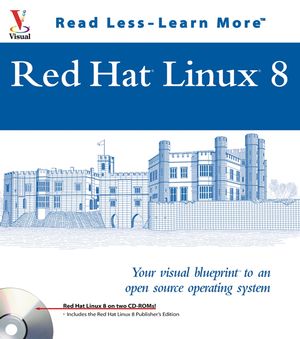 Red Hat® Linux® 8: Your visual blueprintTM to an open source operating system
ISBN: 978-0-764-51793-8
Dec 2002
334 pages
Product not available for purchase
Description
* This highly visual two-color guide demonstrates step by step how to accomplish more than 100 key Red Hat Linux tasks, from installation to security
* Covers the Linux shell, file system, text editor, the X Window System, window manager, and xterm
* Explains how to use the Mozilla Web browser and instant messaging, how to administer auto-mounting file systems, and how to burn CDs and configure CD writers
* Features more than 500 fully annotated screenshots, expanded introductions, and tips with real-life examples
Combining clear, step-by-step screen shots with minimal text, our five Visual series are the ultimate resources for visual learners, who represent up to forty percent of your customers.
Teach Yourself VISUALLY guides help computer users get up to speed on a wide range of office productivity, graphics, and Web design software. Offering significantly more coverage than our Simplified series, these books provide real-world tips and illustrate basic and intermediate level techniques using crisp full-color screen shots.
Visual Blueprints apply the proven Visual formula to professional-level programming, Web development, and networking tips. Each two-color guide includes self-contained two-page lessons, covering more than 100 key topics, accompanied by practical tips and code samples as well as examples and bonus software on CD-ROM.
HOW TO USE THIS BOOK.

1) INSTALLING LINUX.

Install L2.

Upgrade Linux.

2) CONFIGURING HARDWARE.

View Hardware Configuration.

Configure the Video System Type.

Enable or Disable a Network Device.

Configure the Mouse.

Configure the Keyboard Settings.

Add a Printer.

3) LOGGING IN TO A LINUX OPERATING SYSTEM.

Login Using Text-Based Login.

Login Using the Graphical Login Screen.

Log Out of Linux.

Shut Down a Linux System.

Reboot a Linux System.

4) WORKING WITH THE GRAPHICAL DESKTOP.

Explore the Panel.

Launch an Application.

Move and Resize a Window.

Using Multiple Desktops.

Using Panel Applets.

Add an Object to the Panel.

Add a Drawer.

Hide the Panel.

Create a New Panel.

Change the Theme.

Using the Nautilus File Manager.

Create a New Directory Using Nautilus.

Copy Files Using the Nautilus File Manager.

Change the Appearance of Nautilus.

Delete an Item.

Configure a Screensaver.

5) WORKING WITH KDE.

Setting the Initial KDE Options.

Change the Desktop Appearance.

Set Panel Preferences.

Monitor KDE Performance.

Browse the Web Using Konquerer.

Start the File Manager.

Create a Data CD with KOnCD.

Configure a Screensaver.

Determine Hardware Information.

Change the Behavior of Windows.

Change the System Fonts.

View KDE Online Help.

6) WORKING WITH STORAGE MEDIA.

Display Floppy Disk Contents.

Format a Floppy Disk.

Mount a CD-ROM Disc.

Save Files to a CD-R or CD-RW.

7) WORKING WITH AUDIO.

Play an Audio Compact Disc.

Copy an Audio Compact Disc to Your Computer.

Play an MP3 Audio File.

Record Audio.

8) CONFIGURING INTERNET CONNECTIONS.

Set Up a Modem.

Configure Internet Settings.

Connect to the Internet.

Configure Internet Connection Security.

9) WORKING WITH INTERNET APPLICATIONS.

Start Mozilla.

Set the Home Page.

Create a Web Page.

Change the Appearance of Mozilla.

Connect to a News Server.

Work with Newsgroup Messages.

Start Instant Messaging.

Send and Receive Instant Messages.

Connect to an IRC Channel.

Chat Using X-Chat.

Configure E-mail Settings.

Read E-mail Messages.

Send an E-mail Message.

10) WORKING WITH APPLICATIONS.

Start an Application.

Close an Application.

Create a Text Document.

Add a Task.

Schedule an Appointment.

Add a Contact.

View a PDF Document.

11) USING THE OPENOFFICE.ORG SUITE.

Create a Document with OpenOffice.org Writer.

Format Text in OpenOffice.org Writer.

Spell Check an OpenOffice.org Document.

Save and Print an OpenOffice.org Document.

Create a Slide Using OpenOffice.org Impress.

Create a Drawing Using OpenOffice.org Draw.

Manipulate Objects in OpenOffice.org Draw.

Create a Spreadsheet Using OpenOffice.org Calc.

Using Spreadsheet Calculations

12) USING THE GIMP.

Start the GIMP.

Open an Image.

Modify an Image.

Create an Image.

Save an Image.

Add Text to an Image.

Work with Layers.

13) WORKING WITH PACKAGES.

View Installed Packages.

Install a Package.

Remove an Application.

Install an Application Using RPM.

Manage Packages Using RPM.

14) WORKING IN THE TERMINAL WINDOW.

Start a Terminal Window.

Using a Virtual Console.

Enter Commands at the Command Line.

Change the Path.

Specify a New Shell Prompt.

Create an Alias.

Change the Shell Type.

Switch User Accounts.

View the Shell Command History.

15) USING THE VI TEXT EDITOR.

Start vi.

Create a Text File.

Modify a File.

Search Files in vi.

Replace Text.

16) WORKING WITH FILES AND DIRECTORIES.

List the Contents of a Directory.

Create a Directory.

Create Files in a Directory.

Copy Files and Directories.

Move a File or Directory.

17) PERFORMING SYSTEM ADMINISTRATION.

Configure Network Settings.

Mount a File System.

View System Processes.

Configure Services.

Create Back Up Files.

Extract Files.

Using Rescue Mode.

Access Hard Drive Partitions in Rescue Mode.
Chapter
Page
Details
Date
Print Run
CD
Errata page
The "dosutils" and "boot.img" files are missing from the CD included with the book. You can download the files from the link below: www.wiley.com/compbooks/errata/redhatpubed
12/1/02

---