Red Hat® Linux® 8 For Dummies®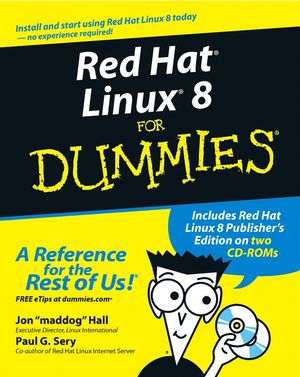 Red Hat® Linux® 8 For Dummies®
ISBN: 978-0-764-51681-8
Nov 2002
384 pages
Product not available for purchase
Description
Install Red Hat Linux 8, get connected, and get to work
Meet the new, improved GNOME interface and go online with cable and DSL
Want a powerful, versatile, and free PC operating system? This handy guide with two CD-ROMs has what you need to toss those other guys out the Windows. Before you can say "tech support," you'll have Red Hat Linux 8 installed and be cruising the Internet, using the newly integrated OpenOffice Suite and RealPlayer, and working with the friendly, revamped GNOME interface.
All this on 2 bonus CD-ROMs
Includes the Publisher's Edition of Red Hat Linux 8 with Apache Web Server, GNU compiler, GNOME and KDE Desktop, and more
System Requirements: Pentium-class PC with 32MB RAM (96MB recommended), CD-ROM, 650MB hard drive (2.5GB recommended).
Introduction.

PART I: INSTALLING RED HAT LINUX.

Chapter 1: And in the Opposite Corner ... A Penguin?

Chapter 2: Preparing Your Hard Drive for Red Hat Linux.

Chapter 3: Ready, Set, Install!

Chapter 4: Getting to Know Red Hat Linux.

PART II: GOT NET?

Chapter 5: Dial-up Modems Get the Job Done.

Chapter 6: Broadband Rocks!

Chapter 7: Connect Locally, Communicate Globally: Connecting to a LAN.

Chapter 8: Fire, Fire, Heh, Heh, Firewalls Are Cool.

PART III: LINUX, HUH! WHAT IS IT GOOD FOR? ABSOLUTELY EVERYTHING!

Chapter 9: Gnowing GNOME.

Chapter 10: Gnowing More Applications.

Chapter 11: Surfin' the Net and Groovin' to Tunes.

Chapter 12: Listening to Live Radio on the Net.

Chapter 13: Going to the Office.

PART IV: REVENGE OF THE NERDS.

Chapter 14: Filing Your Life Away.

Chapter 15: Becoming a Suit: Managing the Real Hat Linux.

Chapter 16: Building Your Own Private Network.

Chapter 17: Creating Basic Linux Network Services.

Chapter 18: Bringing In the Red Hat Linux Repair Man.

PART V: THE PART OF TENS.

Chapter 19: Ten Problem Areas and Solutions.

Chapter 20: Ten Security Vulnerabilities.

PART VI: THE APPENDICES.

Appendix A: Discovering Your Hardware.

Appendix B: Configuring X (Only if You Have To).

Appendix C: Diggin' Them Linux man Pages.

Appendix D: Revving Up RPM.

Appendix E: About the CD-ROMs.

Index.

End-User License Agreement.
"…an excellent complete Red Hat package for those seeking to put a Fresh new Linux system to serious work…"(Linux User, March 2003)
Chapter
Page
Details
Date
Print Run
CD
Missing "dosutils" and "boot.img" files from CD
The "dosutils" and "boot.img" files are missing from the CD included with the book. You can download the files from the link below: www.wiley.com/compbooks/errata/redhatpubed
12/1/02

---