Red Hat Fedora Linux 2 For Dummies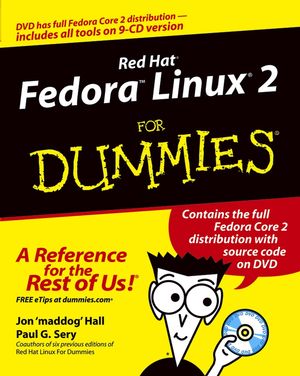 Red Hat Fedora Linux 2 For Dummies
ISBN: 978-0-764-56792-6
Jul 2004
396 pages
Product not available for purchase
Description
* Shows Linux newbies how to install and use Red Hat's Fedora-the latest release of the most popular Linux distribution-in the familiar friendly, easy-to-understand For Dummies style
* Includes the full Fedora Core distribution with source code on DVD and all of the CD content that comes with Fedora, saving readers hours of downloading time
* New features in this revised edition include an example DSL modem configuration and sections on how to use Mozilla's e-mail client, how to use a virtual private network, and how to use Nautilis to surf the net
Introduction.
Part I: Installing Fedora Core.
Chapter 1: And in the Opposite Corner . . . a Penguin?
Chapter 2: Paving the Way for Fedora Core.
Chapter 3: Ready, Set, Install!
Chapter 4: Starting Up with Fedora Core.
Part II: Got Net?
Chapter 5: Dial-Up Modems Still Get the Job Done.
Chapter 6: Broadband Rocks!
Chapter 7: Connect Locally, Communicate Globally: Connecting to a LAN.
Chapter 8: Only You Can Prevent Break-Ins.
Part III: Linux, Huh! What Is It Good For? Absolutely Everything!
Chapter 9: Gnowing GNOME.
Chapter 10: Gnowing More GNOME.
Chapter 11: Surfin' the Net and Groovin' to Tunes.
Chapter 12: Live from the Net.
Chapter 13: Going to the Office.
Chapter 14: Days of Wine and Applications.
Part IV: Revenge of the Nerds.
Chapter 15: Building Your Own, Private Network.
Chapter 16: Creating Basic Linux Network Services.
Chapter 17: Securing Your Future.
Chapter 18: Bringing In the Fedora Core Repairman.
Chapter 19: Building a Streaming Audio Server.
Part V: The Part of Tens.
Chapter 20: Ten Problem Areas and Solutions.
Chapter 21: Ten Security Vulnerabilities.
Part VI: Appendixes.
Appendix A: Fedora Core Administration Utilities.
Appendix B: Discovering Your Hardware.
Appendix C: Filing Your Life Away.
Appendix D: Becoming a Suit: Managing the Linux File System.
Appendix E: Using RPM and YUM.
Appendix F: About the DVD.
Index.
View the Companion Site for this title
View the Companion Site for this title