Red Hat Fedora and Enterprise Linux 4 Bible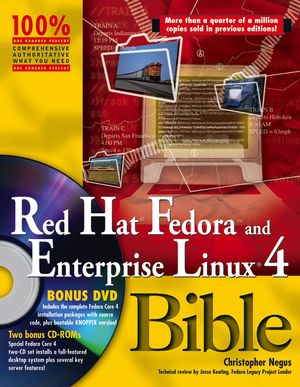 Red Hat Fedora and Enterprise Linux 4 Bible
ISBN: 978-0-764-59576-9
Aug 2005
1152 pages
Product not available for purchase
Description
For desktop or business, here's all the Linux you need
Whether you want the latest Linux software in Fedora or a stable Red Hat Enterprise Linux for your business, this book covers it all. Install Fedora Core 4 from the DVD or two CDs included and learn to use Linux as a desktop system or an Internet server. Check out fun applications for surfing the Web and doing office tasks. Learn to manage basic system administration, and move up to running your own Web, mail, print, or file server.
Configure Fedora or Red Hat Enterprise Linux to:
Browse the Web with Firefox
Read and send e-mail with Evolution
Create documents, spreadsheets, or presentations with OpenOffice.org
Set up networked Web, mail, file, database, LDAP, print, or other servers
Transition your Fedora skills to Enterprise Linux with:
Descriptions of RHEL products, features, and services
Pointers to professional RHEL training and certification
Install complete Fedora Core 4 from DVD
Using the bonus DVD, you can:
Boot the DVD to check and prepare your computer before installing Fedora (using KNOPPIX)
Install the complete Fedora Core 4 Linux operating system (all source code packages included)
Install desktop Fedora Core 4 from CD

Using the bonus 2-CD set, you can:
Select the software you need for a well-stocked desktop system
Add key server features to use with your desktop Fedora system
Open for more!
Find ten cool things you can do with Fedora
Use KNOPPIX to test and prepare your computer
Get your Windows stuff working in Linux
www.wiley.com/go/fedora4bible
Preface.
Part I: Getting Started in Fedora.
Chapter 1: An Overview of Fedora.
Chapter 2: Installing Fedora.
Chapter 3: Getting Started with the Desktop.
Chapter 4: Using Linux Commands.
Part II: Using Fedora.
Chapter 5: Accessing and Running Applications.
Chapter 6: Publishing with Fedora.
Chapter 7: Playing Games with Fedora.
Chapter 8: Multimedia in Fedora.
Chapter 9: Tools for Using the Internet and the Web.
Part III: Administering Fedora.
Chapter 10: Understanding System Administration.
Chapter 11: Setting Up and Supporting Users.
Chapter 12: Automating System Tasks.
Chapter 13: Backing Up and Restoring Files.
Chapter 14: Computer Security Issues.
Part IV: Fedora Network and Server Setup.
Chapter 15: Setting Up a Local Area Network.
Chapter 16: Connecting to the Internet.
Chapter 17: Setting Up a Print Server.
Chapter 18: Setting Up a File Server.
Chapter 19: Setting Up a Mail Server.
Chapter 20: Setting Up an FTP Server.
Chapter 21: Setting Up a Web Server.
Chapter 22: Setting Up an LDAP Address Book Server.
Chapter 23: Setting Up Boot Servers: DHCP and NIS.
Chapter 24: Setting Up a MySQL Database Server.
Chapter 25: Making Servers Public with DNS.
Chapter 26: Using Linux Servers from a Mac.
Part V: New Technology.
Chapter 27: Adopting the Linux 2.6 Kernel.
Chapter 28: Implementing Security Enhanced Linux.
Appendix A: About the CD-ROMs.
Appendix B: Fedora Core 2 RPMs.
Appendix C: Running Network Services.
Index.
GNU General Public License.
Extra Content
Because limitations exist on how big a book can be, for each new release of the Red Hat Fedora Linux Bible, the author must cut some sections to add room for new information. Some of the information deleted from the book, however, is still quite valid and useful, so the author has put it in this archive. To make room for new information, the author removed several sections covering software that was no longer part of the mainstream Fedora distribution. Those sections have been added to this archive. We have also put content here that was dropped from previous Red Hat Linux Bible editions, but still might be useful or interesting to some users. The files in this archive are stored in Microsoft Word Format; you will need a viewer capable of viewing Microsoft Word files to view the files. To see the topics available for download, as well as a few FAQs, review the Read Me First file.
Download