Red Hat Linux 8 Server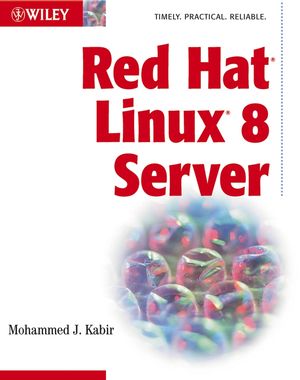 Red Hat Linux 8 Server
ISBN: 978-0-764-53635-9
Jan 2003
768 pages
Product not available for purchase
Description
* Covers new Linux 2.5 kernel features, including Tux Web server.
* Reviews setting up Bind, Apache, MySQL/Postgres, Sendmail/Postfix, Wu-FTPD/Pro-FTPD, servers for intranet/Internet users.
* Discusses sercuring a server using netfilter, firewalls, and tools such as OpenSSL, Open SSH, and more.
* Addresses improvements including ext3 Journaling Filesystems and ReiserFS Journaling Filesystem.
* The CD-ROM includes major open source tools and custom software.
Preface.

Acknowledgments.

Part I: Getting Started.

Chapter 1: Why Red Hat Linux?

Chapter 2: Installation and Basic Configuration.

Chapter 3: The Red Hat Network.

Part II: Working as a Superuser.

Chapter 4: The Bootup and Shutdown Processes.

Chapter 5: Working with File Systems.

Part III: Managing Users, Processes, and Networks.

Chapter 6: User Administration.

Chapter 7: Process Administration.

Chapter 8: Network Administration.

Part IV: Setting Up Intranet/Internet Services.

Chapter 9: DNS Server.

Chapter 10: Setting Up E-mail Service.

Chapter 11: Setting Up Web Service.

Chapter 12: FTP Server.

Chapter 13: Squid Proxy Server.

Chapter 14: Samba Server.

Chapter 15: Setting Up MySQL Database Server.

Chapter 16: NFS Server.

Part V: Securing the Server.

Chapter 17: Implementing Kernel-level Security.

Chapter 18: Deploying a Firewall.

Chapter 19: Restricting User Access.

Chapter 20: Protecting Files.

Part VI: Running X Windows.

Chapter 21: Setting Up X Windows.

Chapter 22: Using the X Desktop.

Part VII: Troubleshooting the Server.

Chapter 23: Dealing with Common File System Issues.

Chapter 24: Troubleshooting Your Network.

Part VIII: Appendixes.

Appendix A: Whats on the Web Site.

Appendix B: Everyday Commands.

Appendix C: Linux Resources.

Index.