Reflections on Empire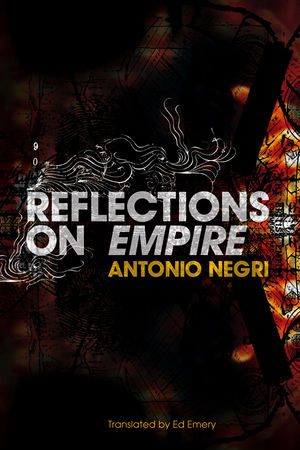 Reflections on Empire
ISBN: 978-0-745-63705-1 July 2008 Polity 200 Pages
Description
This new book from Antonio Negri, one of the most influential political thinkers writing today, provides a concise and accessible introduction to the key ideas of his recent work.
Giving the reader a sense of the wider context in which Negri has developed the ideas that have become so central to current debates, the book is made up of five lectures which address a series of topics that are dealt with in his world-famous books empire, globalization, multitude, sovereignty, democracy.
Reflections on Empire will appeal to anyone interested in current debates about the ways in which the world is changing today, to the many people who are followers of Negri's work and to students and scholars in sociology, politics and cultural studies.
Table of contents
A Note on the Text vii
Preface: A Few Concepts Explained 1
A Conversation about Empire Antonio Negri and Danilo Zolo 11
Lesson 1: On Historical Method: Causality and Periodization 32
Sovereignty: Michael Hardt and Antonio Negri 49
Lesson 2: On Social Ontology: Material Labour, Immaterial Labour and Biopolitics 60
Globalization and Democracy: Michael Hardt and Antonio Negri 79
Lesson 3: Political Subjects: On the Multitude and Constituent Power 96
Towards an Ontological Definition of the Multitude 114
Lesson 4: On the Production of Subjectivity: Between War and Democracy 126
Counterpower 139
What to Make of 'What Is to Be Done?' Today: The Body of General Intellect 148
Lesson 5: Logic and the Theory of Inquiry: Militant Practice as Subject and Episteme 159
Following in Marx's Footsteps Michael Hardt and Antonio Negri 173
Index 196
Reviews
"As a series of brief pointers to the theoretical architecture of
Empire
it is an excellent primer."
British Journal of Sociology
"Reflections on Empire and Empire and Beyond offer accessible points of entry to Negri's project with Hardt, which build, in their cumulative effect, to a sophisticated reflection upon its key ideas and their evolution - one that rewards close reading, even among those already familiar with his work."
Marx and Philosophy
Features


This important book focuses on key contemporary topics including empire, capital, democracy and sovereignty

Antonio Negri is internationally renowned as an influential political philosopher

This work excellently complements Negri's best-selling title 'Empire' providing a detailed background of how the vital global concepts he addresses have developed

'Reflections on 'Empire'' will appeal to students of social sciences as well as general readers interested in contemporary political debates