Reflective Practice in Nursing, 4th Edition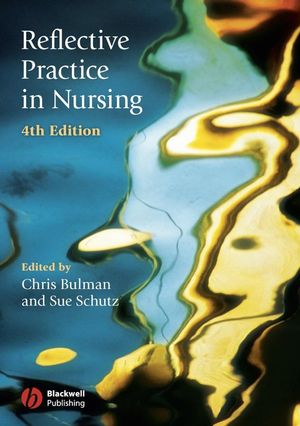 Reflective Practice in Nursing, 4th Edition
ISBN: 978-1-118-69336-0 May 2013 Wiley-Blackwell 256 Pages
Description
Reflective Practice is increasingly recognised as an important topic that has the potential to help nurses to develop and learn from their practice. This practical and accessible guide uses the latest research and evidence to support the development of skills in reflective practice and provides help and advice on how to get started, how to write reflectively and how to continue to use reflective practice in everyday situations.
This fourth edition of Reflective Practice in Nursing contains new material on mentoring and supervision and on group reflection, and includes a new chapter on teaching reflective practice.

Reflective Practice in Nursing is an indispensable guide for students and practitioners alike, who wish to learn more about reflective practice, as well as containing essential information for teachers and lecturers.
Table of contents
Chapter 1: Introduction.
What is reflection?.
Philopsophical background.
Research evidence.
Chapter 2: Skills/Attributes.
Chapter 3: Assessment and Evaluation.
Chapter 4: Mentoring and Supervision.
Chapter 5: Tips for Teachers.
Developing a reflective curriculum.
Supporting, nurturing and challenging students.
Preparing and supporting staff.
Chapter 6: Talking.
Group reflection.
Reflection in the classroom.
Chapter 7: Writing.
Journals, diaries, reflective writing.
Chapter 8: Continuing the journey with reflection.
Chapter 9: Advice - Tips to get you started
Reviews
"This is a cracking book for anyone wanting to gain an insight into reflective practice."  (Nursing Standard, 4 July 2012)
From reviews of the third edition:
'This excellent book provides useful guidance on the use of reflection in practice.... 'This book is well written and structured so that it is straight-forward for the reader to make sense of a complex but essential aspect of the role of the mentor. It would be a helpful addition to any nursing library.'
Primary Health Care
'a useful guide to reflection and demonstrates how reflection on practice can support the development of nursing knowledge and our understanding of practice.... The text will appeal to a wide audience within the nursing profession and is to be recommended.'
Journal of Advanced Nursing
From reviews of the second edition
'…an excellent investment in any nurses' library portfolio.'
Journal of Advanced Nursing
'An extremely welcome addition to nursing's literature on thoughtful, knowledgeable practice'
Nursing Times
'This is an excellent practical guide to reflective practice…I would highly recommend this book to all practice teachers and students.'
Journal of Practice Nursing
'The use of practical examples throughout, written in an easily accessible style, contribute to an interesting and highly motivating text… For qualified nurses who are interested, but as yet unfamiliar with the approach, it provides a key handbook and will be a welcome addition to their bookshelves.'
Journal of Clinical Nursing 'This book is well written and structured so that it is straight-forward for the reader to make sense of the complex but essential aspect of the role of the mentor. It would be a helpful addition to any nursing library.'
Features
* Practical, evidence-based introduction
* Rigorous yet accessible
* Assumes no prior knowledge
* Now in two-colour
* Supports students, mentors and teachers
* New chapter on tips for teaching reflective practice