Reforming the Evaluation of Research: New Directions for Evaluation, Number 118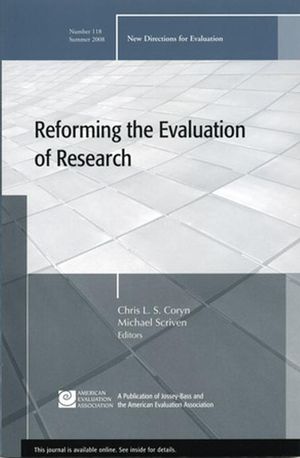 Reforming the Evaluation of Research: New Directions for Evaluation, Number 118
ISBN: 978-0-470-38245-5 July 2008 Jossey-Bass 120 Pages
Description
This volume is devoted to efforts at improving the evaluation of research and represents the theoretical, methodological, and practice perspectives of some of the world's leading scholars who have devoted themselves to improving how research is evaluated.

Contributions in this volume come from authors currently or recently working in Australia, Ireland, Japan, new Zealand, the United Kingdom, and the United States. The chapters is this volume offer powerful and promising insights, including:
A Theories-Based Systemic Framework for Evaluating Diverse Portfolios of Scientific Work
Strategic Evaluation of Research and Development in Japan's Public Research Institutes
A Peer Review Process for Games and Software
The Australian Research Quality Framework: A Live Experiment in Capturing the Social, Economic, Environmental, and Cultural Returns of Publicly Funded Research
Evaluation of Large Research Initiatives: Outcomes, Challenges, and Methodological Considerations
Making Team Science Better: Applying Improvement-Oriented Evaluation Principles to Evaluation of Cooperative Research Centers
The Logic of Research Evaluation
The result is an invaluable resource, not just for the scientists, technologists, and scholars who have been or will be subjected to an assessment of their own research, but also for research managers and policy makers.

This is the 118th volume of the Jossey-Bass higher education quarterly report series New Directions for Evaluation, a publication of the American Evaluation Association.