Reframing Academic Leadership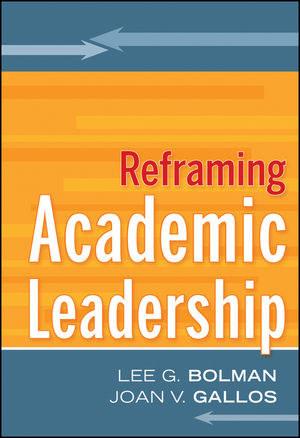 Reframing Academic Leadership
ISBN: 978-0-470-92933-9 December 2010 Jossey-Bass 288 Pages
Description
"Colleges and universities constitute a special type of organization; and their complex mission, dynamics, personnel structures, and values require a distinct set of understandings and skills to lead and manage them well."
—From the Preface

In Reframing Academic Leadership, Lee G. Bolman and Joan V. Gallos offer higher education leaders a provocative and pragmatic guide for
Crafting dynamic institutions where the whole is greater than the sum of the parts
Creating campus environments that facilitate creativity and commitment
Forging alliances and partnerships in service of the mission
Building shared vision and campus cultures that unite and inspire
Serving the larger goals of the academy and society
Throughout the book, the authors integrate powerful conceptual frameworks with rich and compelling real-world cases to support academic leaders searching for the best in themselves and in their institutions. The book tackles thorny issues such as building institutional clarity and capacity, managing conflict, coping with difficult people, partnering with the boss, and developing leadership resilience.
Following in the tradition of Bolman and Deal's classic Reframing Organizations, Bolman and Gallos emphasize a pragmatic approach. They tease out the unique challenges and opportunities in academic leadership and provide ideas, tools, and encouragement to help higher education leaders see more clearly, feel more confident, and become more skilled and versatile in handling the vicissitudes of daily life. Reframing Academic Leadership is the resource for those seeking to understand, develop, and manage colleges and universities.
Preface.
About the Authors.
Part I Leadership Epistemology: When You Understand, You Know What to Do.
1. Opportunities and Challenges in Academic Leadership.
2. Sensemaking and the Power of Reframing.
3. Knowing What You're Doing: Learning, Authenticity, and Theories for Action.
Part II Reframing Leadership Challenges.
4. Building Clarity and Capacity: Leader as Analyst and Architect.
5. Respecting and Managing Differences: Leader as Compassionate Politician.
6. Fostering a Caring and Productive Campus: Leader as Servant, Catalyst, and Coach.
7. Keeping the Faith and Celebrating the Mission: Leader as Prophet and Artist.
Part III Sustaining Higher Education Leaders: Courage and Hope.
8. Managing Conflict.
9. Leading from the Middle.
10. Leading Difficult People.
11. Managing Your Boss.
12. Sustaining Health and Vitality.
13. Feeding the Soul.
Epilogue: The Sacred Nature of Academic Leadership.
References.
Name Index.
Subject Index.